Insulated Work Boots: A Necessity for Working in Cold Environments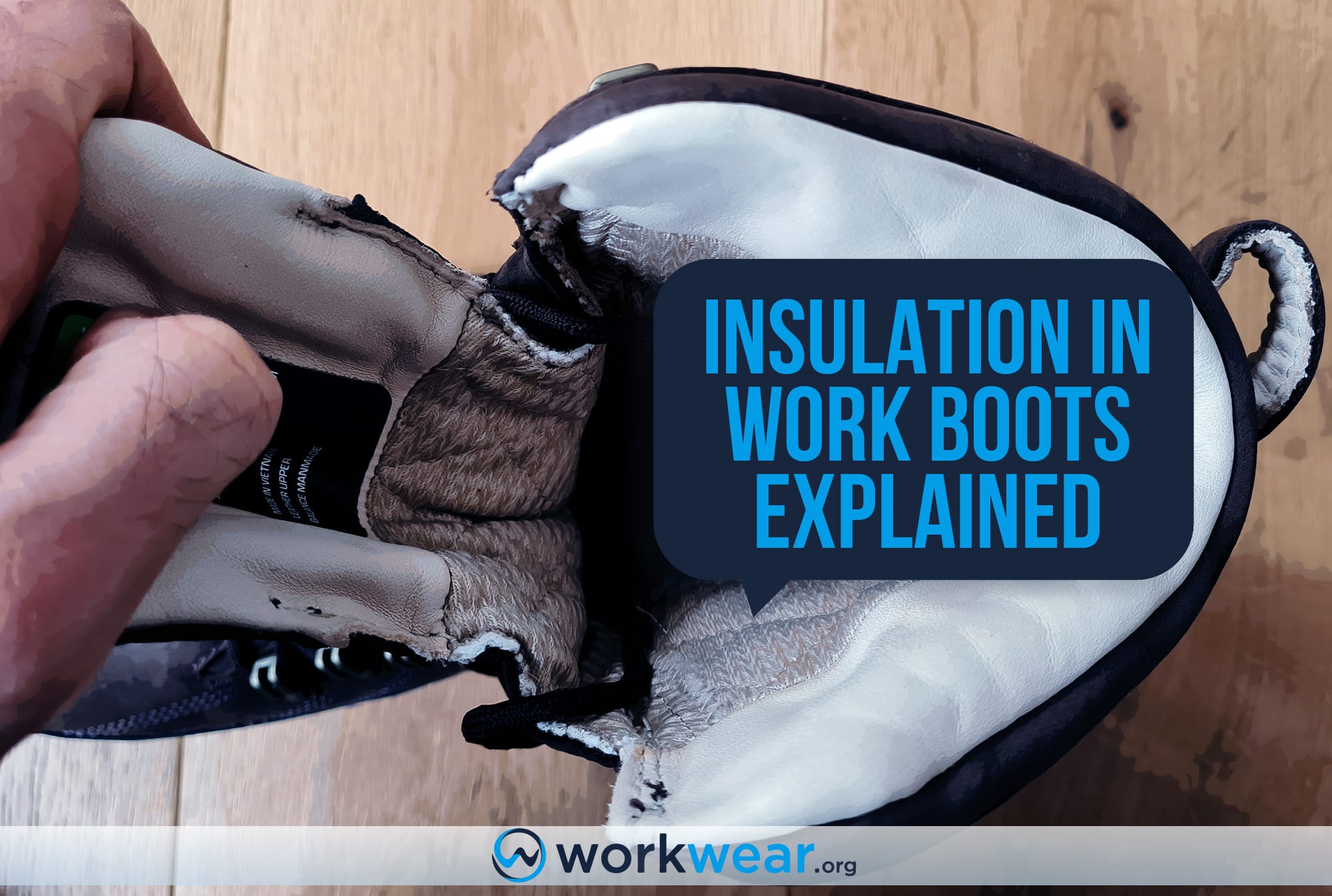 Working in cold environments can be challenging, especially if you don't have the proper gear. That's why insulated work boots are crucial for anyone working in cold conditions. These boots are designed to keep your feet warm and protected, making tasks in the work area more manageable without having to worry about getting cold feet. Insulated work boots are suitable for winter and other really cold conditions, with some insulation materials retaining their insulating power even when exposed to wetness. Different insulation materials are used to maintain the boots' cozy warmth, making it essential to understand the various insulation technologies and ratings. In this article, we will demystify the topic by bringing you all the information you need on work boot insulation.
Insulation & Temperature Rating Chart
Amount of Insulation

Temperature Rating

Ideal Conditions

Activities

200 grams

-28°C/-20°F

Non-winter seasons
Cool temperatures
Cold conditions

Very minimal to no movement (cool temperatures)
Strenuous activity in cold conditions

400 grams

-40°C/-40°F

Winter
Cold environments
Freezer

Moderate activity level (outdoors in winter)
Tasks in freezer settings

600 grams

-51°C/-60°F

Sitting or standing for long periods in colder settings
Low activity level (outdoors in winter)

800 grams

-62°C/-80°F

Winter
Very cold settings

Low to zero activity level (for long periods) in very cold environments

1000 grams (or more)

-73°C/100°F

Winter
Extremely cold conditions

Low to zero activity in severely cold settings
The amount of insulation doesn't refer to the total weight but rather the thickness of the insulating material inside the boot. A higher amount of insulation not only makes the boot warmer but also increases its weight, so this should also be considered when choosing the level of insulation most suitable for your needs.
It's important to note that the higher the insulation built in, the warmer the boots become.
It's equally crucial to note that an insulated work boot's temperature rating – and the conditions wherein the boots will be worn – can have slight variations depending on various factors, including:
Type of socks worn with the boots – thick winter socks will help maximize the work boots' insulating power, while thin ones (especially those made with cotton) can leave the feet feeling cold even with proper insulation within the footwear.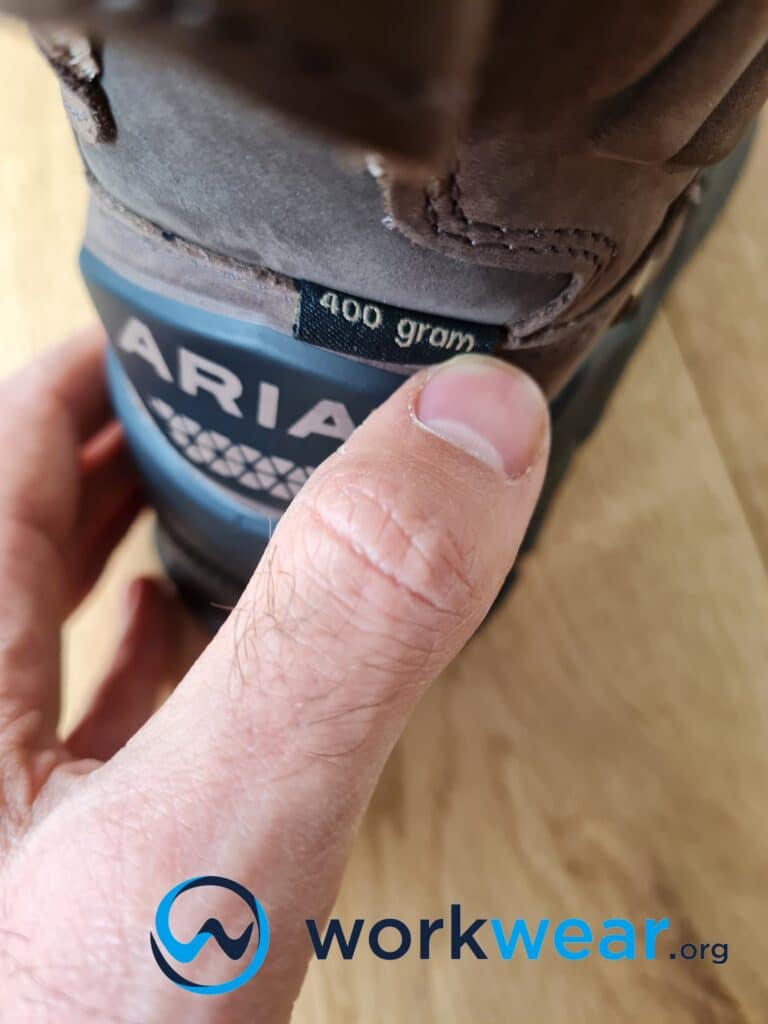 Level of activity – colder conditions generally needs insulated work boots with higher insulation. However, work boots with lower insulation levels can also be used in colder settings if more strenuous activities are expected for the duration of the boot use. This is because physically demanding activities can help maintain warmth inside the boots compared to lower activity levels (which can allow the cold to build up quickly).
Boot fit – Snug-fitting insulated work boots will keep the feet properly insulated since they efficiently trap warmth and stop cold air from flowing in. On the other hand, the small space created by a loose fit can negatively affect the boots' insulating abilities, resulting in uncomfortably cold feet.
Types of Insulation Materials Used in Work Boots
Synthetic Thinsulate
Thinsulate, made by 3M, is the most popular and frequently used insulation material in work boots today.
It's a synthetic material known for its lightweight, low-profile properties, offering excellent insulation without making the boots feel too bulky inside.
The microfiber traps the air molecules to prevent the warmth from escaping while sealing the cold. 3M Thinsulate is exceptionally durable and won't easily fall apart even with heavy use in demanding environments. It also insulates even when wet – a quality that most natural insulation materials can't match.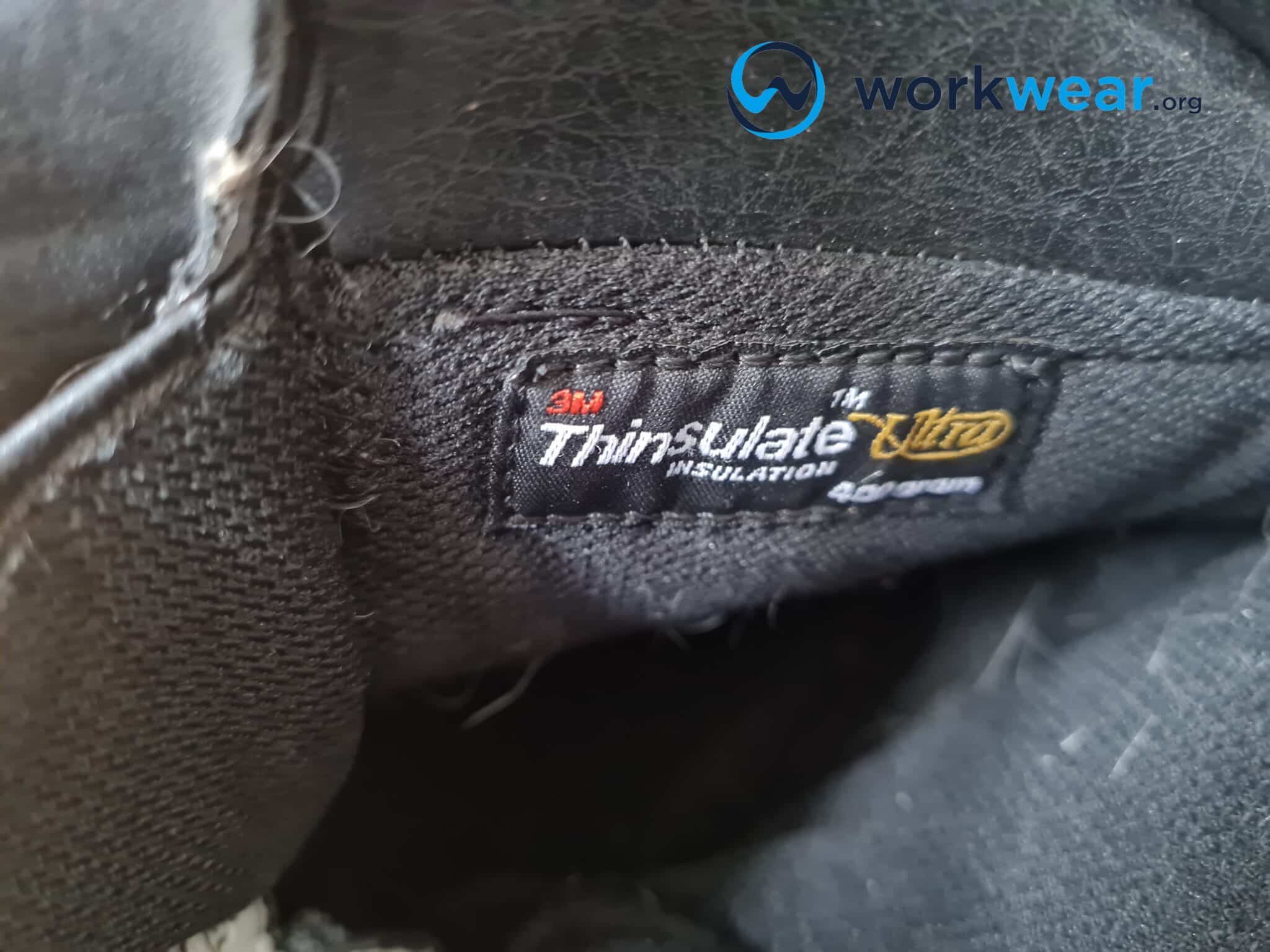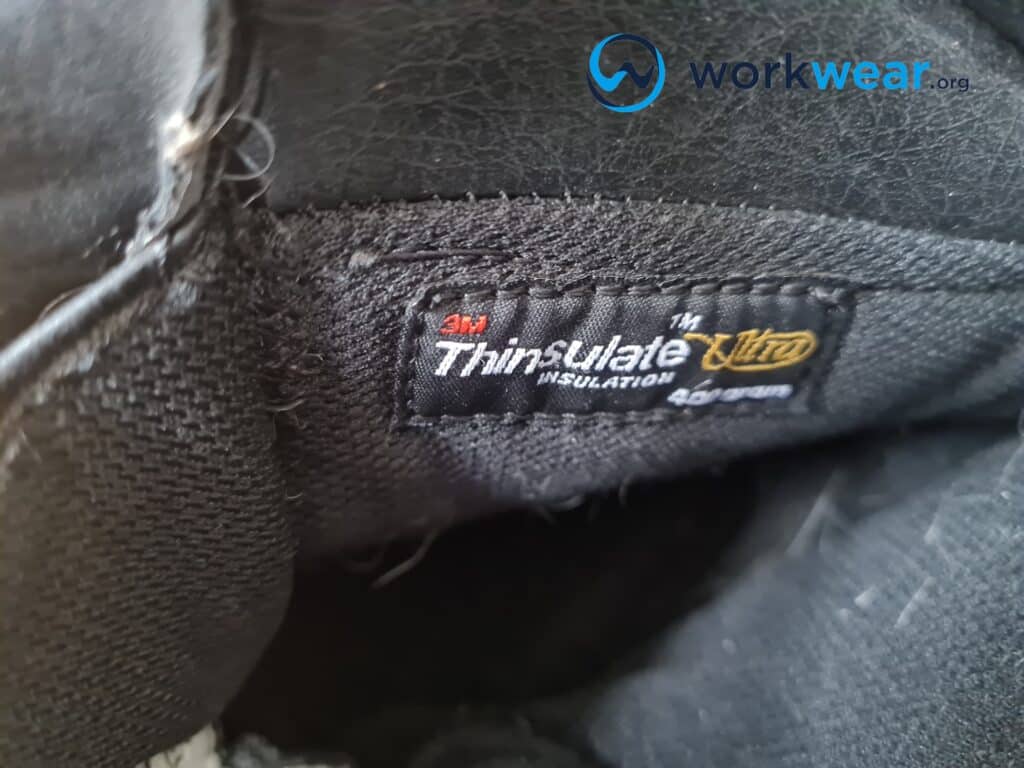 Aside from Thinsulate, other microfiber synthetic insulating materials are used for work boots, including Primaloft and Thermolite, known for their minimized weight.
Neoprene
Neoprene is a synthetic rubber material mostly used for rubber work boots.
It's known for its lightweight and flexible properties, which can be rolled or folded.
The material traps heat and blocks cold air from entering, preserving comfortable warmth inside the boots in cold settings. It also seals out wetness, making it suitable for working in environments with slushy ice.
Shearling
Also known as fine fleece, shearling delivers incredible softness, making work boots ultra-comfortable.
The material traps heat, surrounding the feet with cozy warmth while adding a snuggly feeling for enhanced comfort.
However, it's not as durable as synthetic materials and unsuitable for extreme conditions.
Work boots with shearling insulation are ideal for jobs that require low to medium levels of activity and are not exposed to extreme wetness – which can damage the fibers.
Tips for Keeping Your Work Boots Warm
Dry them after use
Nothing's worse than pulling on damp boots when working in cold surroundings. To prevent this from happening, make sure that you take the time to dry the boots after every use. Then, when you get home, you can fill up the boots with a dry towel or newspapers (which can absorb the residual wetness). Then, when you need to wear them the next day, the boots are completely dry and will feel warm.
Choose tall boots
When it comes to insulated work boots, height matters a lot. Boots with tall shafts protect the calves from exposure to slush and cold air, which may be encountered in many outdoor work areas in colder seasons. The taller structures also prevent cold air from quickly flowing into the boots and can more easily trap warm air.
Wear the right kind of socks
The right socks keep your feet comfortable and help maintain cozy warmth in cold conditions. Thick socks are not necessarily the best because they can cause discomfort by negatively affecting blood circulation and putting pressure on the feet. On the other hand, wool socks are ideal for warding off the cold because they're some of the warmest sock options, plus they allow moisture to evaporate quickly and keep the feet dry.
Use a sock liner
Sock liners offer an extra insulation layer that can help keep the work boots warm in low-temperature job sites. This extra layer also works by wicking sweat away from the skin, so it's easier to maintain a comfortably dry, warm feeling throughout the day.
Don't lace up too tightly
It's normal to assume that tightly lacing boots will help preserve heat inside. However, while tightly-laced boots may feel warm, they can also stop built-up moisture from escaping. This can lead to the feet becoming drenched with sweat, eventually resulting in discomfort that no amount of insulation will be able to balance out.
Try thermal insoles
Thermal insoles deliver heat back to the feet while wicking away moisture, resulting in dry, warm feet for hours. They can replace the existing (removable) insoles but can also be placed on top of the original insoles if the work boot has enough space to accommodate both insole products.
Place toe warmers inside
Toe warmers protect the toes from feeling uncomfortably cold in low-temperature work areas. They're mostly air-activated and must be shaken to energize the warming agents. When the toe warmers start giving off a soothing warmth, they can be fitted into the sock or insole (with the attached adhesive) to warm up the toes.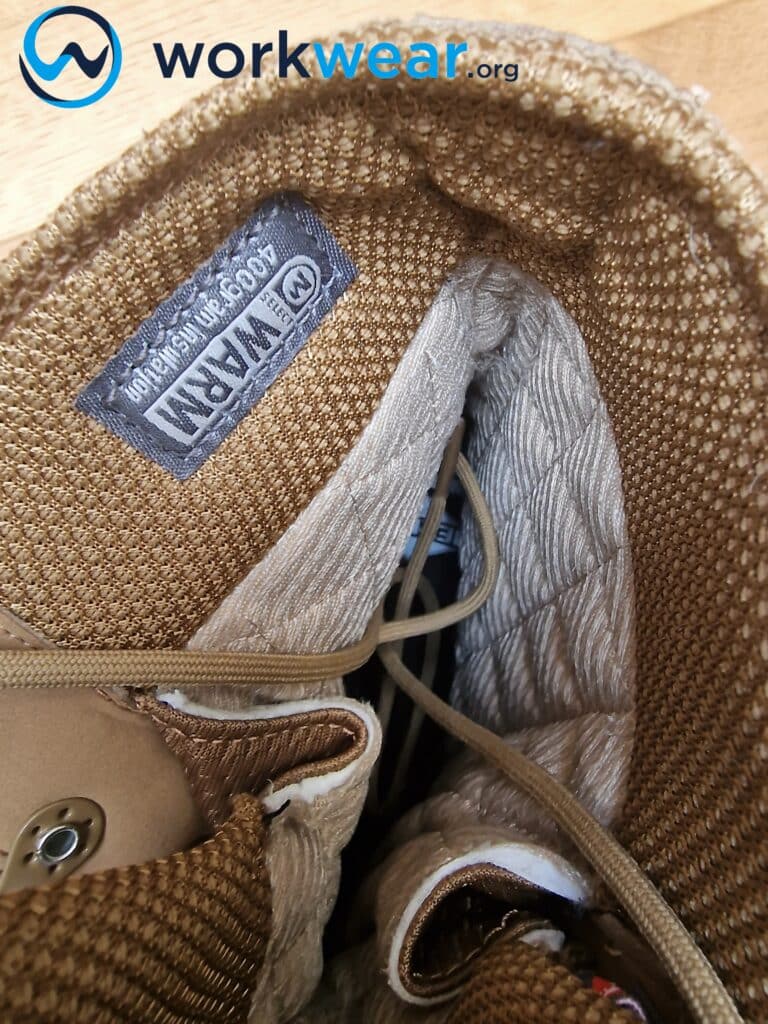 Go for gaiters
Gaiters are used over footwear and the legs to prevent debris from getting into boots, but they can also be used to stop cold air from creeping in. Their bottom part covers the top of the work boots, protecting the skin from feeling the chill in cold conditions.
Make work boots waterproof
Waterproof uppers stop liquids from seeping into the boots and, in the process, help preserve much-needed warmth inside the footwear. In addition, waterproofing products can increase work boots' resistance to moisture so they can stay warm for much longer in cold environments.
DIY with duct tape
To make work boots warm, you can improvise by wrapping them with duct tape. This makeshift insulation system will stop cold air and moisture from seeping into the boots, so they can stay warm enough to protect the feet against discomfort on cold job sites.
Recommended Insulated Work Boots
| Insulated Work Boots | Insulation Type/Material |
| --- | --- |
| Chippewa Aldarion Insulated Composite Toe Boot | 3M Thinsulate |
| Converse Utility All Terrain Chuck Taylor All-Star Boot | Fleece |
| Ariat Catalyst VX Defiant Gore-Tex Insulated Boot | 3M Thinsulate |
| Muck Boot Arctic Outpost Tall Boot | Neoprene and fleece |
| Dickies Medway Safety Boot | 3M Thinsulate |
| Haix Airpower XR1 Boot | Fleece and Haix Climate System |
| Dunlop Purofort Thermo+ Full Safety Boot | Purofort insulation |
| Merrell MQC 2 Thermo GORE-TEX Boot | Primaloft and Merrell insulation |
| Timberland PRO 6-Inch Direct Attach Insulated Boot | Thermolite |
| Blundstone 566 Leather Chelsea Boot | 3M Thinsulate |
Conclusion
Insulation is a vital part of work boots for use in winter and similarly cold conditions. They preserve ample warmth and block cold air from entering, keeping the feet comfortable for hours while working in low-temperature scenarios. Insulated work boots come in several temperature ratings and insulation levels corresponding to varying conditions and activities, so it's crucial to remember these aspects when going through the available options. There are different ways to warm a work boot to fight off the chill, but there's nothing better than choosing the best-insulated work boot specifically designed to seal in the soothing warmth all day long in cold environments.
FAQs
Will insulated work boots make the feet sweat?

It depends on the boots' construction. High-quality insulated work boots come with moisture-wicking properties that help prevent overheating and sweating while keeping the feet warm.

Can steel-toe boots be used in cold weather?

Yes, provided they have reliable insulation built in to stop the cold from coming in and keep the feet surrounded by comfy warmth.

Are insulated work boots very heavy?

It depends on the insulation material and the boots' construction. Top-notch insulation materials such as Thinsulate offer low-profile insulation, trapping warmth without taking up too much space. As a result, the boots don't feel too weighty – especially if their design is not too bulky.

Is it important for insulated work boots to be waterproof, too?

Yes, waterproofing is an essential aspect of insulated work boots. By blocking liquids from getting absorbed, waterproof materials help sustain a dry, warm environment inside the boots to ward off an uncomfortably cold feeling on low-temperature worksites.
---