Alloy Toe Work Boots Explained and Demystified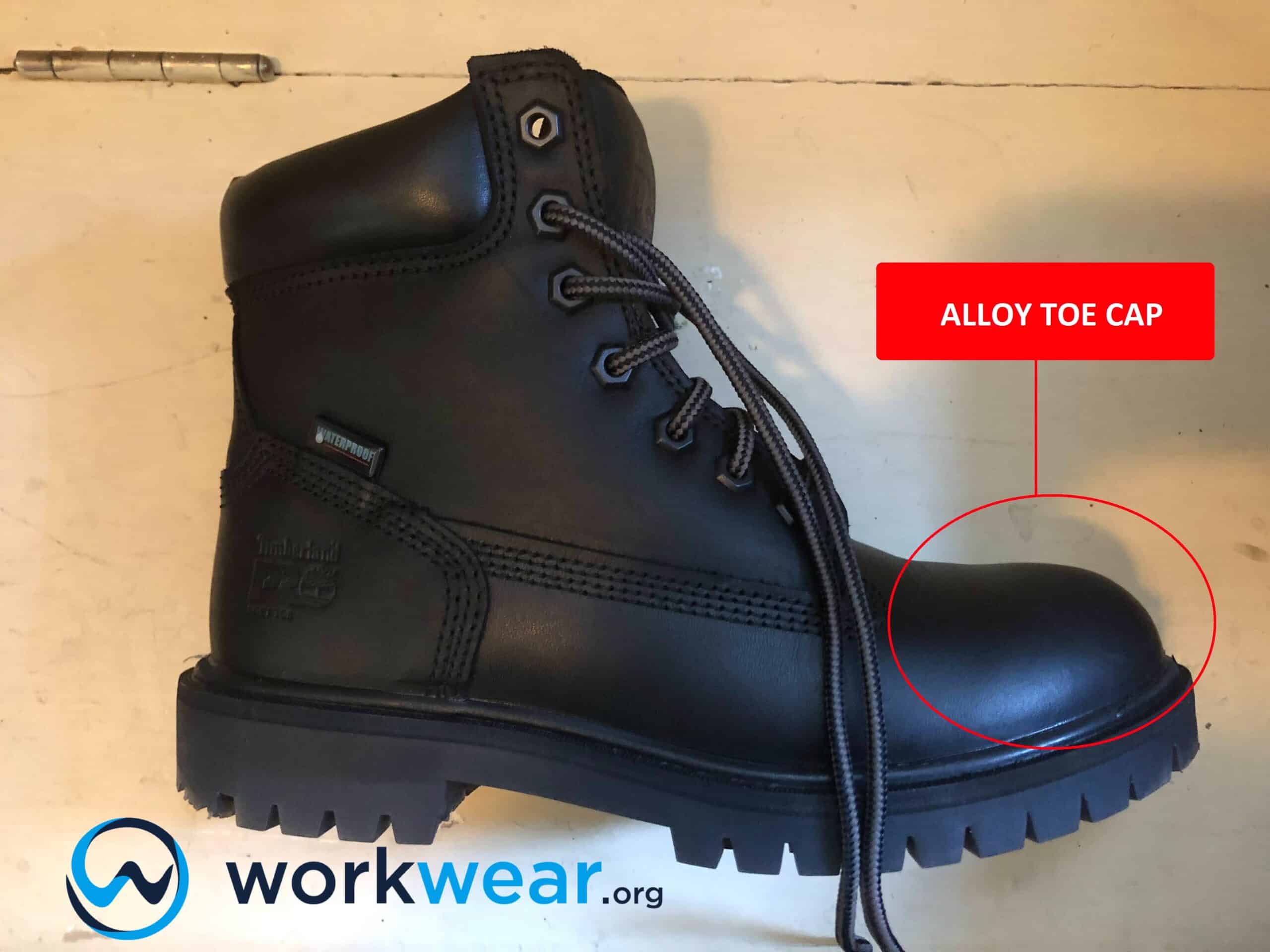 Safety boots are essential for various work environments, especially when falling items are risky. The safety toe caps guard the toes, so it's easier to avoid crushed toes in case heavy objects, such as large tools, pieces of equipment, or construction materials, are accidentally dropped on the boots.
When it comes to safety boots, the first thing that may come to mind is the steel toe option. This material can undeniably protect the toes, but other materials can offer equally reliable protection against hazardous impact or compression. Alloy toe work boots are packed with the same high-performance features built into steel toe work boots but offer a higher level of comfort as the alloy toe caps are lighter than steel.
What are Alloy Toe Boots?
Alloy toe work boots are equipped with toe caps made of metal other than steel. Alloy toe caps can be made by combining two or more elements, including aluminum, copper, magnesium, manganese, chromium, silicon, zinc, titanium, and iron. These metal toe enhancements deliver the same strong protection that steel toes offer. However, alloy toe caps are lighter than steel, so they're more comfortable to use over long periods.
Uses of Alloy Toe Work Boots
Alloy toe work boots are ideal for jobs that require continuous protection against heavy falling objects. Since they're lighter than steel toe work boots, they're more comfortable to use while staying upright or walking for long periods – which the following professions can experience:

Carpenters
Construction workers
Auto mechanics
Manufacturing personnel
Advantages and Disadvantages of Alloy Toe Boots
It's important to note alloy toe work boots' strengths and weaknesses, which are discussed in detail below.
Advantages
Reliable toe protection 
Alloy toe work boots keep the feet safe against serious harm when heavy objects, such as large tools or construction materials, fall accidentally from elevated spaces in the work area. Their strength is comparable to steel toe boots, so they can be relied on to prevent grave crushing injuries to the toe area, especially in hazardous worksites that may be surrounded by compression and impact threats. Alloy toe caps are more durable than composite toes, offering longer-lasting benefits with the same lightweight profile for enhanced comfort.
Lighter than steel-toe work boots
Alloy toe caps are constructed by combining two or more elements, such as aluminum, titanium, copper, and magnesium. These are light elements that, when combined, provide reliable strength without the excessive weight that's associated with steel. The alloy toe caps are fitted into the boot to protect the toes against dangerous impact and compression, but they don't add that much to the boot's weight. As a result, the boot maintains its minimized weight, so it can be used for long hours without uncomfortably dragging on the foot with too much bulk. Alloy toe work boots are ideal for jobs that require continuous walking or standing for hours, compared to steel toe work boots that can start feeling painfully heavy before long.
Thinner toe caps
Alloy toe caps are thinner compared to steel toes. They take up less space in the toe box, so the boot leaves more space for the toes to wiggle freely. Alloy toe work boots are more comfortable to use than steel toe boots because of the reduced weight and because they don't cramp the top portion of the feet into extremely tight toe boxes.
Disadvantages
Typically, more expensive than steel toe work boots
Steel toe work boots are generally the most affordable option for safety work boots. The cost of manufacturing steel toes is much lower than creating alloy toe caps and doesn't require the advanced technology required to construct composite toe caps. If strong toe protection is required, but budget is an issue, steel toe work boots may win over alloy toe safety boots as the former option is more affordable. However, the wearer's comfort level may suffer when choosing steel toe work boots, especially with continuous boot use for hours.
Will set off metal sensors
Just like boots with steel toes, alloy toe work boots can accidentally set off metal detectors. These boots can be inconvenient to use in areas where workers need to go through or near metal sensors, such as in power plants, airports, and courts. This is because the footwear can unintentionally trigger the detectors, after which a thorough inspection required with each alarm can disrupt a worker's regular daily tasks.
Heat and cold transfer
As with other metals, alloy toe caps conduct cold and heat. This means that extreme cold and heat can pass from the work environment – such as when working in outdoor winter conditions – to the feet inside the boots. In such cases, the feet can feel uncomfortably warm or painfully cold as the toe caps conduct heat or cold in extreme temperatures.
Comparison Table
Type od Boots

Pros

Cons

Alloy Toe Work Boots

Lighter than steel toe boots
Strong toe protection
Thinner compared to steel toes and leaves more room for toes to move

Typically, has a higher price point compared to steel toe boots
Sets off metal detectors
Transfers cold and heat

Steel Toe Work Boots

Strong protection against dangerous compression and impact
More affordable than alloy toe work boots
Strong puncture resistance

Heavier than alloy toe work boots
Typically, bulkier/thicket than alloy toe enhancements
Conducts cold and heat
May conduct electricity
Popular Alloy Toe Work Boots
Timberland PRO Titan 6-Inch Alloy Toe Waterproof Work Boot
This boot is built with alloy toe caps that shield the toes against strong impact and compression from falling objects. The toe caps are much lighter than steel, so the boot doesn't feel too bulky even when used for long periods. The electrical hazard-safe design offers a non-primary level of protection against electrocution should unintentional exposure to electrically charged materials in the work area. The exclusive Timberland PRO comfort system features strong arch support and cushioning to relieve foot fatigue when staying upright throughout long shifts. A breathable lining draws moisture away from the foot, preventing sweat from building up while providing continuous odor control with an antimicrobial enhancement. The slip-resistant rubber outsole greatly minimizes the risk of slipping accidents on challenging surfaces while offering high resistance to abrasion and heat.
Keen San Jose Boot
This boot is constructed with aluminum alloy toe caps that offer reliable protection against large or heavy items that can suddenly drop from elevated areas around the worksite. Even with the strong toe protection in place, the boot still feels comfortably lightweight, so it doesn't drag on the foot even after extended hours of continuous use. The air-infused PU midsole enhances the almost weightless feel, supporting the foot with ample cushioning without significantly adding to the boot's bulk. The moc toe design works with the thin aluminum alloy toe cap to elevate the toe box, offering more room for the toes to move comfortably without feeling cramped into a tight space. The water-resistant leather upper stops liquids from penetrating, keeping the foot dry while working in conditions exposed to water, mud, and other moisture sources. Meanwhile, the electrical hazard design reduces the risks of electric shock with a secondary layer of protection.
Our Testing Experience
We tried the Timberland PRO Titan 6-Inch Alloy Toe Waterproof Work Boot and Keen San Jose Boot, both equipped with alloy toe caps. If we didn't know better, we would've assumed that these boots had soft toes because they didn't have the bulky feel of safety toe boots. Instead, both boots had lightweight profiles that didn't weigh the feet but offered superior toe protection against compression and impact risks. Our feet stayed comfortable and didn't feel cramped or strained, even when we used the boots for the entire day. In addition, we appreciated the electrical hazard designs that minimized the electrocution threat encountered when working in conditions with exposure to open circuits or live wires.
Conclusion
Ally toe work boots are ideal for hazardous work areas, offering toe protection that's comparable to that provided by steel toe boots. The main advantage of alloy toe caps over steel ones is the reduced weight, making it possible for the boots to deliver continuous protection against dangerous compression and impact without the uncomfortable heaviness and bulk. On the other hand, alloy toe safety boots may not be ideal for those after the lowest-priced options, as they're more expensive than steel toe work boots with almost the same qualities.
FAQs
Are aluminum alloy toe caps made exclusively with the element aluminum?

No – aluminum alloy toe caps are built with a combination of two or more elements, including aluminum. The other elements work with aluminum to create toe caps with strong resistance to impact and compression yet are lightweight enough to be worn comfortably for long periods.

Can alloy toe work boots be used safely by electricians?

Yes – alloy toe work boots are safe for use by electricians and those who work in settings that may have exposure to open circuits. These professionals will have safer experiences with alloy toe work boots with electrical hazard protection like the Keen San Jose Boot, which offers a secondary source of protection against electrical shock. To reduce the risk of electrocution, it's important that the conductive part of the boot (in this case, the alloy toe cap) doesn't directly touch the foot and isn't exposed to the boot's exterior.

Will alloy toe work boots stay comfortable in extremely cold conditions?

The toe caps in these boots are made with metal, so they'll transfer heat or cold from the environment. To keep your feet safe and comfortable in extremely cold conditions, it's best to choose composite toe work boots, especially the ones with insulating qualities. The composite toe caps' nonmetallic material doesn't transfer temperature from the boots' exterior to the feet, making it possible for the feet to remain comfortably warm even on cold job sites.

Do alloy toe caps offer better protection than composite toes?

Yes, alloy toe caps create stronger shields against crushing injuries, especially with a sustained or repeated impact that composite toe caps may not be able to withstand.
---