What is Cotton Duck? Uses and Advantages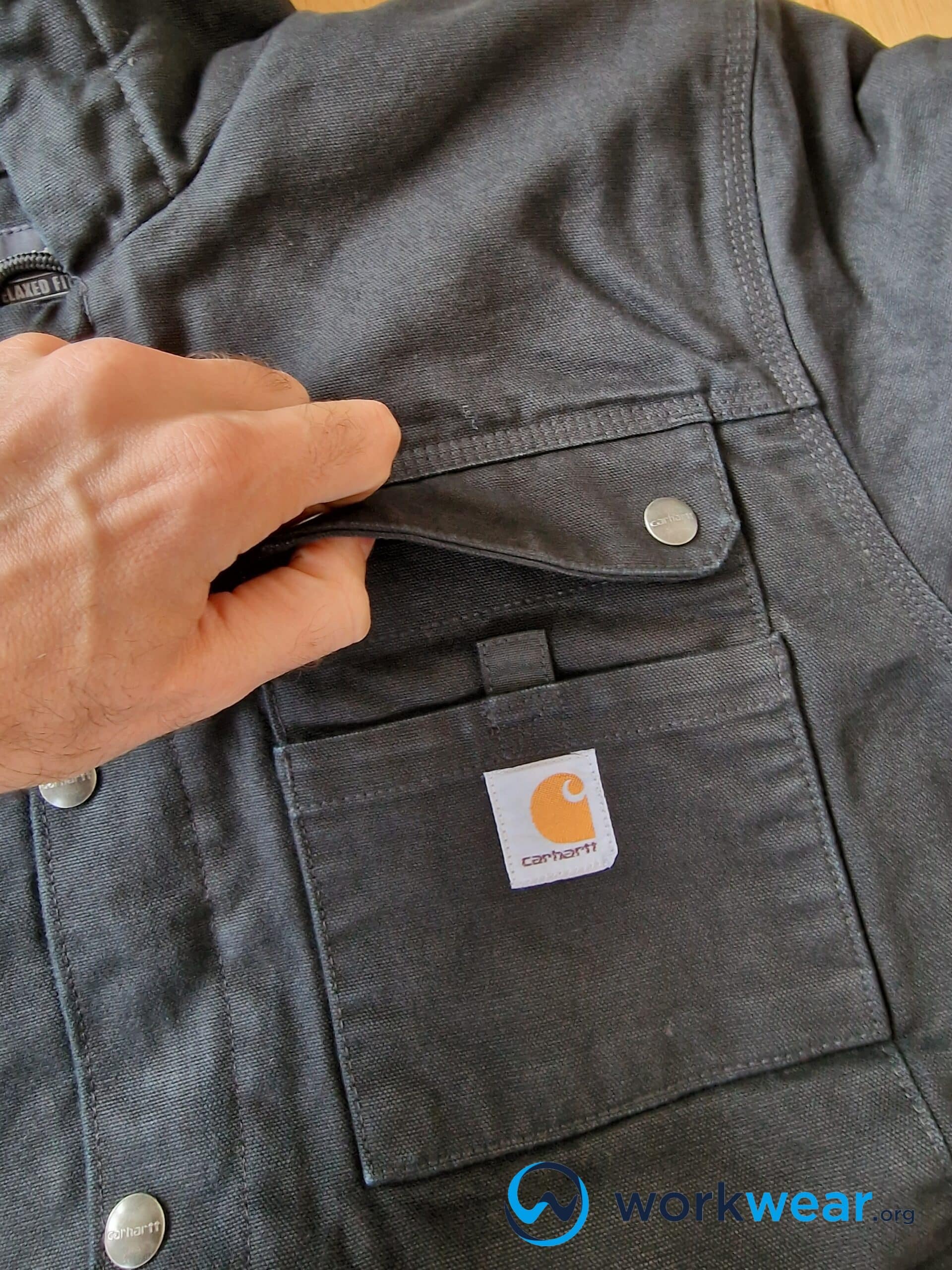 If you've heard of cotton duck before, you're already familiar with this amazing fabric. But if you haven't, get ready to meet one of the most versatile and durable fabrics out there!
Cotton duck has been used for centuries as the go-to fabric for weather-resistant outerwear and upholstery. You'll find cotton duck to have applications for all kinds of use, including clothing, outdoor upholstery, workwear, and even camping gear!
But what exactly is cotton duck fabric, where does it get its name from, and what exactly is it that makes it so durable? Let's find out the answers to these questions and why you should get cotton duck clothing in this quick guide!
What is Cotton Duck?
Cotton duck is a heavy plain-woven cotton fabric. The word duck, in this instance, comes from the Dutch word doek, a linen canvas used for sailor outerwear. The word cotton was added to differentiate cotton duck from other cotton linen and canvas variants.
Cotton duck is woven with a single yarn in the weft and two yarns in the warp. Cotton duck is also known as duck cloth and duck canvas. The latter variety is an excellent alternative to standard canvas due to its tighter weave. Linen duck is also a rarely used variety of cotton duck fabric.
Cotton duck has a numbered weight classification system called the Numbered Duck Grade. The grades range from 12-1 and refer to the number of ounces of a 36×22″ piece subtracted from 19. For example, an 11-ounce piece of cotton duck 36×22″ in size is Grade 8 (19 – 11 = 8).
Grade 12 is the lightest variety, while Grade 1 is the heaviest. Since most of the cotton duck fabric's demand is for heavy-duty use like tents and sails, some lighter types (Grades 7, 9, and 11, in particular) are no longer commercially sold. The following table will help you in deciding what kind of cotton duck is best suited for your purpose:
| Numbered Duck Grade | Weight | Applications |
| --- | --- | --- |
| Grade 12 | | Furniture Covers, Light Clothes, Painting Canvas |
| Grade 10 | | Work Clothes, Hammocks, Shower Curtains |
| Grade 8 | | Workwear, Backpacks, Clothes, Tents, Awnings, Duffel Bags, Tarps |
| Grade 6 | | Boat Covers, Heavy Workwear, Place Mats |
| Grade 5 | | |
| Grade 4 | | |
| Grade 3 | | |
| Grade 2 | | |
| Grade 1 | | Sandbags, Soundproofing Hammocks, Storage Bins, Cots, Floor and Wall Coverings |
What is Cotton Duck Used For?
Cotton duck's durability and weave make it a very versatile fabric. Cotton duck has many applications, from boat sails to tents and even clothes. The fabric is popular due to its high durability and water resistance.
The most common colors in cotton duck include brown, khaki, earthy greens, and tan. Some of the many applications of cotton duck include:
Shoes and Sneakers
Tents
Sandbags
Canvas for paintings
Headboards
Lunch bags
Aprons
Tote bags
Backpacks and Handbags
Duffel bags
Window treatments
Stroller covers
Baby carriers
Duct Tape (initially manufactured by adding adhesives to cotton duck fabric)
Is cotton duck the same as a plain canvas?
Cotton duck is a type of canvas with distinct differences between the two. Both cotton duck and plain canvas are plain-weave, versatile, and made from cotton. However, cotton duck is smoother, while canvas has a rougher feel.
You can tell their difference through their feel and weight classification (ounces per sq. yard). The canvas has a medium-heavy to heavy classification, while the cotton duck has a medium. Cotton duck is more tightly woven than standard canvas making it tougher and easier to waterproof.
Can cotton duck be organic?
Yes, if made from organic cotton. Since cotton duck is made from cotton, it is possible to produce it organically from sustainable fibers and low-impact dyeing methods. In addition, sustainable cotton farming reduces chemical harm. However, remember that textile production still has a significant carbon footprint.
Benefits of Cotton Duck
Cotton duck fabric is very easy to care for and only needs the occasional wash with cold water and mild soap on a gentle cycle. Cotton duck resists losing color or shape over multiple washes, and you can iron it quickly.
Part of cotton duck's popularity is due to its easy waterproofing availability. While cotton duck's tight weave provides a certain degree of water repellency, a simple paraffin wax treatment can render it completely waterproof.
Cotton duck provides the highest utility in workwear. Cotton duck workwear jackets are very popular among outdoor workers as the versatile fabric lasts well against excessive use and weather conditions. You can also use cotton duck clothing in both summer and winter. In summer, the fabric provides shade, while in the winter, it provides heat retention.
Additionally, the cotton duck gets comfier the more you wear it without losing its toughness. The tight weave reduces tears and is highly resistant to fire (though still flammable). This burn resistance is excellent news for welders, as sparks don't cause cotton duck fabric any damage.
Another great feature of cotton duck is its dirt resistance, which makes it easy to spot-clean without staining. The combination of durability, toughness, and weather resistance makes it the ideal outdoor wear.
Cotton vs Cotton Duck
Traditional cotton fabric is the most popular choice for clothing due to its lightweight and cheap cost. Plain cotton differs from cotton duck in several fundamental areas. Let's look at a few significant similarities and differences:
| Fabric Type | Cotton | Cotton Duck |
| --- | --- | --- |
| Material Used | | Cotton (Bleached or Unbleached) |
| Weave | | |
| Weight | | |
| Durability | | |
| Waterproof | | Yes, with waterproofing treatment. |
| Texture | | |
Conclusion
Cotton duck is a cotton fabric variant becoming increasingly popular as of late. The durability and versatility of cotton duck have made it a favorite in outdoor applications. In addition, the fabric has a tight weave that makes it easy to waterproof.
Cotton duck has various applications, with outdoor workwear the hot favorite. Cotton duck clothing provides increased comfort with every use while highly resistant to harsh weather conditions and tears. In addition, it is longer lasting, cheaper, and lighter than alternative fabrics like a plain canvas. Cotton duck is also easy to clean since it has high dirt and liquid resistance.
FAQs
What is cotton duck fabric?

Cotton duck is a medium-heavy plain woven cotton fabric. Cotton duck is tightly woven and highly durable.

Does cotton duck fabric shrink?

Cotton duck fabric can shrink up to 3% when washed. This amount of shrinkage is normal. Washing makes the cotton duck fabric swell and closes off the spaces between the weave. It is advised to stretch wet cotton duck clothing at the seams to reduce shrinking.

What is cotton duck fabric used for?

Cotton duck has a wide variety of uses due to its versatility and durability. The most popular uses include outdoor upholstery and workwear.

Does cotton duck fabric stretch?

Since cotton duck is made from natural cotton, it has no natural stretch. In addition, the tight weave provides further resistance from stretching.

Is cotton duck durable?

With two thick yarns in the waft and a single in the weft, cotton duck has a tight weave that makes it resistant to tears and harsh weather. The fabric is quite sturdy, durable, and rugged.

Is cotton duck waterproof?

Cotton duck is quite resistant to liquid penetration. It can easily be made waterproof through a pressure application of paraffin wax, hydrophobic spraying, or seam sealing.

Is cotton duck washable?

Yes, but it rarely requires washing. You can machine wash cotton duck clothing in cold water. Ideally, you should air dry all cotton duck fabric. However, you can tumble-dry cotton duck clothing without heat. Additionally, never use bleach on cotton duck fabric as it's likely to damage it.

Is cotton duck fabric resistant to dirt and dust?

Cotton duck's tight weave makes it resistant to dirt, dust, and liquid penetration. As a result, it is usually easy to spot clean if dirty.
---