Dr Martens Sizing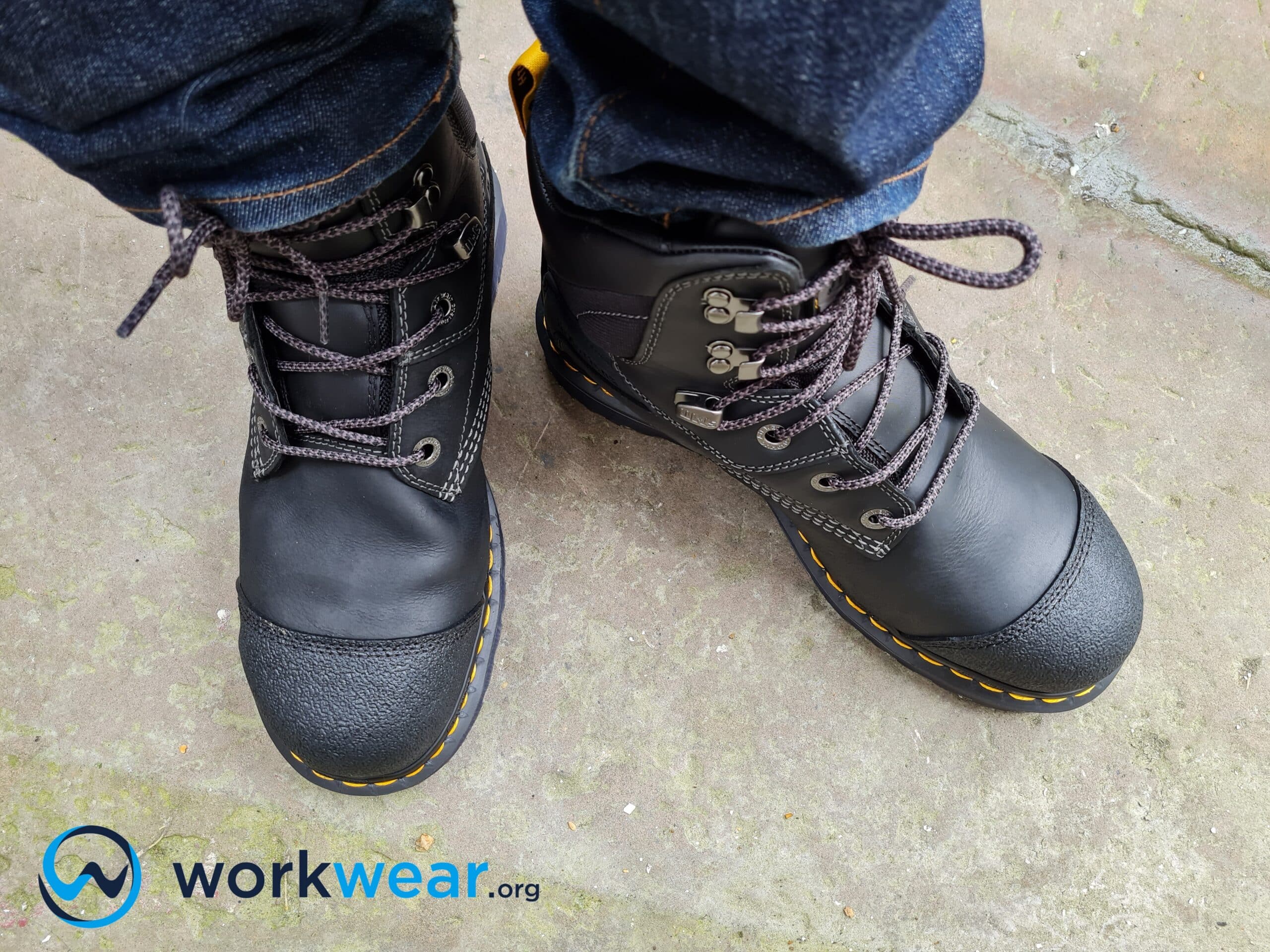 Dr Martens boots have the power to bridge generation gaps, with the footwear's edgy vibe continuing to capture the hearts of fans across all ages. Avid fans of DMs are also drawn by the boots and shoes' sturdy construction that's made to last through the toughest activities without easily breaking apart.
Each pair of Doc Martens brings assurances of high-quality looks and lasting durability but getting the right size can often be tricky.
When choosing the appropriate size, it often comes to the option of upsizing or downsizing these boots. So we'll look deeper into Dr Martens boots' sizing to have a clearer idea of how to pick the right size that will allow you to not only maximize the boots' benefits but also prevent pain with every use.
Key Takeaways
Dr Martens boots and shoes are available only in full sizes (using UK sizing); they're not offered in half sizes.
The bold structure and thick, rigid leather make choosing the right size for Doc Martens boots tricky.
Most DMs are true to size, but some styles – such as the timeless 1460 boots, Jadon, and Chelseas – tend to run big.
Going down to the next size can help make styles that run big feel more comfortable and stable.
While not the most popular option, upsizing can also have benefits, as the extra space accommodates thick socks for improved comfort during the break-in process.
Dr Martens Footwear Profile
Dr Martens boots and shoes have their own cult following because of their fashionably bold silhouettes. These footwear choices add stylish toughness to any outfit they're partnered with while offering durable designs for lasting performance.
The robust design has a drawback, though, as these boots are known for being quite hard to break in. In addition, the thick, tough leather and sturdy structure result in boots that are notoriously stiff out of the box, although some styles have been offered in softer leather profiles in recent years.
The stiffness of the leather upper, combined with the design of the boots, results in difficulties when choosing the right size. Although Dr Martens advertises its footwear to be true to size, it can take time to get the correct fit that feels comfortable, with the unwelcome rigidity getting in the way. That said, the boots' tough construction should be considered when choosing the appropriate size for specific styles.
How to Get the Correct Dr Martens Size
First off, it's important to note that Dr Martens boots and shoes are offered only in full sizes. It's also crucial to know that this is a British brand and follows UK sizing, which usually translates to being one whole size smaller than US sizes.
This should be considered when looking at the sizes and before choosing the one that would fit best. Most information points to downsizing as the best choice, as DMs tend to run big. Based on our experience, however, this isn't always the case.
Full Sizes and Half Sizes
If your shoe size is full, chances are you won't have a hard time choosing the correct Doc Martens boot size. You can use your usual size, and, depending on the style, it can have a bit of room to allow a comfortable break-in process that doesn't include the leather digging into your feet.
Those whose feet feel most comfortable in half sizes can go up or down the next size as these boots and shoes aren't available in half sizes.
Downsizing
The popular choice of downsizing comes from the fact that Doc Martens often have aggressive silhouettes, making the boots look and feel much larger.
Some of the most popular DMs – including the iconic 1460 boots, the platform Jadons, and Chelsea boots – run a bit large so downsizing may be the best option for most people.
The bulky profiles naturally call for downsizing to ensure that there isn't too much room inside the boots, which can lead to an unstable feeling for walking. However, going down to the next size will compensate for the leather stretching out over time, especially after the boots have been properly broken.
Upsizing
While it goes against the usual advice, going up to the next size with DMs can have advantages.
The extra space inside can accommodate thick socks, which will be a huge blessing when you break into the boots. In addition, the socks will protect your feet from blistering during the break-in process, which is necessary with all Doc Martens boots to make them feel a lot more comfortable to wear for long periods.
Do Dr Martens Boots Run Big?
In general, Dr Martens boots and shoes tend to run big across specific styles, including the classic 1460 boots, Chelsea boots, and Jadon boots. When buying these styles, it's best to consider downsizing to get a fit closer to your actual shoe size. However, downsizing isn't always the solution, as you may want to leave some extra space inside the boots to accommodate wearing thick socks. The bigger size will ensure enough room for the thick socks, which can protect the feet against painful chafing during the break-in period.
It's also worth noting that most of the other Doc Martens designs are true to size, so downsizing or upsizing may not even be required in most cases.
Conclusion
Dr Martens boots and shoes have a reputation for being bold fashion choices that deliver lasting durability. Unfortunately, their often-aggressive profiles make them look considerably bulky, and some styles – such as the ever-popular 1460 boots, platform Jadon boots, and Chelsea boots – tend to run big. It's important to note that most Doc Martens styles are true to size. Since DMs are only offered in full sizes, going down a full size may be needed for those most comfortable in half sizes. Downsizing may also be considered by those who prefer the styles mentioned above to ensure that they'll fit correctly without excessive space, leading to an unstable walking experience. However, in some cases, upsizing can also bring benefits, as doing so leaves enough space to accommodate thick socks for a more comfortable break-in process.
Personal Testing Experience
We had the chance to try out a wide range of Dr Martens boots and shoes (from their simple and industrial product lines) which all impressed us with their bold good looks, strong traction, and remarkable durability. The other thing these boots had in common was their inflexibility, which had a considerable effect on comfort and the way they fit. The Dr Martens 1461 Shoes had a classic silhouette that made them ideal for work and casual use, with a snug fit that locked the feet in place. We liked the lace-free designs of the 2976 Slip-Resistant Boots and AirWair Rometty Boots which made them much easier to put on, especially with the stretch panels on the sides and back straps for added convenience. Both had snug-fitting styles so we won't recommend them for wide feet.
Meanwhile, the Dr Martens Vegan 1460 were just like the classic 1460 boots, with the uppers being a bit softer and thinner – although the extremely snug fit significantly reduced the comfort level. However, we were surprised that the ones that turned out to be the most comfortable were those from the Dr Martens Industrial line: the Duxford Steel Toe Work Boots and Icon 7B10 Leather Steel Toe Work Boots. Both work boots had steel safety toes for protection, were true to size – with the Icon 7B10 being roomier than Duxford – and featured generously cushioned interiors that elevated the comfortable experience.
Based on our testing experience, Dr Martens boots and shoes vary in size, some of which are true to size while others are not.
FAQs
Are US sizes the same as UK (British) sizes?

No, US sizes are typically one full size larger than their UK sizing counterparts. It's important to take note of this as Dr Martens boots and shoes use British (UK) sizes.

Does the leather of Dr Martens boots soften easily?

Typically, the leather used in Dr Martens boots and shoes doesn't easily soften. The footwear needs to go through a long break-in process before it can become flexible enough to be worn without pain since the stiff leather (out of the box) can dig into the skin while walking.

Aside from helping during the break-in process, does upsizing DMs have other benefits?

Yes, upsizing can also leave enough room inside to accommodate the placement of insoles, which can be used to improve the overall comfort of the boots.

Is it okay to go down 2 sizes for a more comfortable fit?

No, the best option is to go down just one size. After the break-in process, the leather of Dr Martens boots may stretch only a bit. This means that downsizing 2 sizes can lead to boots that feel uncomfortably tight even after properly breaking in.
---