Keen Utility vs Timberland PRO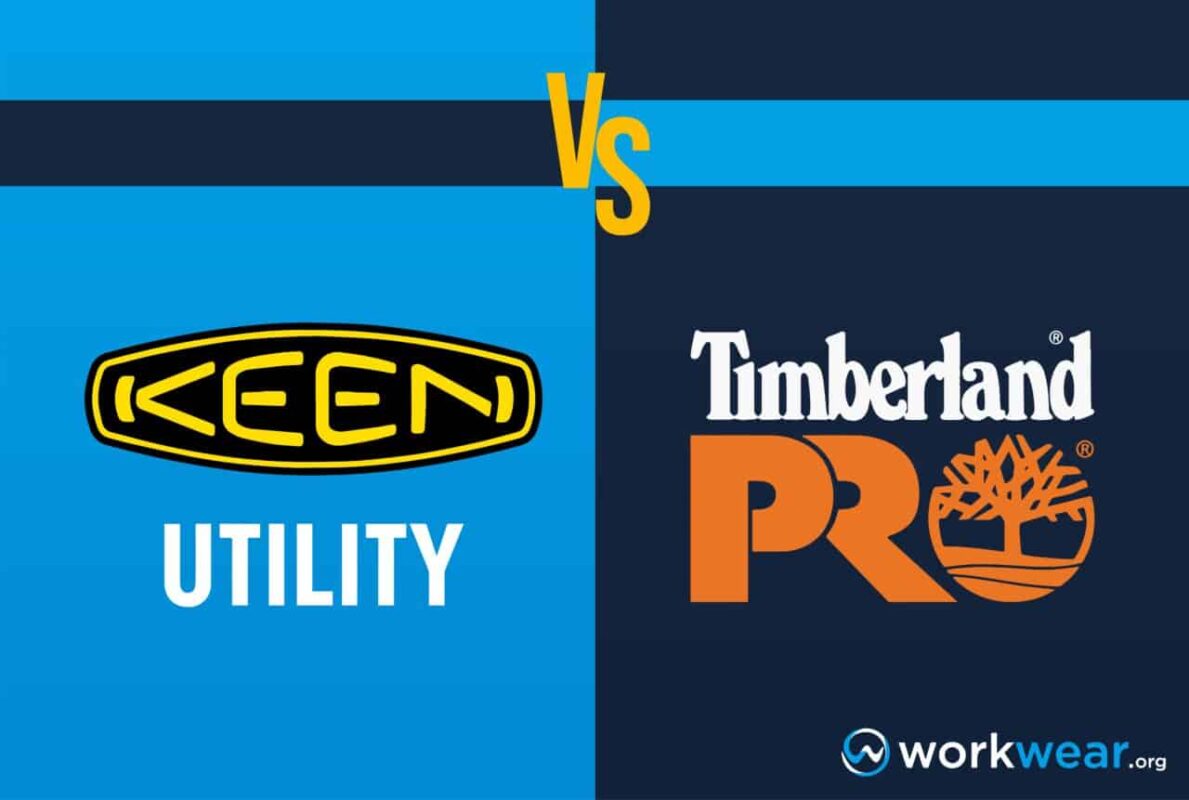 Keen Utility and Timberland Pro are two of the most popular choices when it comes to rugged work boots with advanced safety and tech features.
Keen Utility is the work boots line of Keen, the same way that Timberland PRO is Timberland's work boots and workwear brand. These brands' work boots typically have features that protect the feet against the elements, making it easier to stay dry without compromising comfort and natural mobility. In this article, we'll discover the key features that make these two brands stand out, and we'll also go through their key differences.
Key Takeaways
Keen Utility and Timberland PRO are popular brands manufacturing high-performance work boots known for their comfort and safety features and versatile, almost sporty designs.
Keen Utility uses environmentally friendly practices for creating durable, comfortable, and high-traction work boots that mostly have sporty styles and roomy toe boxes and are offered in wide sizes.
However, these boots are on the heavy side and are costlier than Timberland PRO.
Timberland PRO work boots generally have durable, versatile designs that mostly feature safety components, strong waterproofing and traction, Anti-Fatigue Technology, and lower prices than Keen Utility.
However, these work boots are heavy, and their soles feel rigid
Keen Utility
Keen Utility is a workwear brand that manufactures high-quality work boots. Therefore, it should be distinct from Keen, which produces hiking and outdoor wear. This line of hardwearing footwear for professional use showcases a similar focus on superior functionality and comfort as Keen products. However, Keen Utility work boots are designed to enhance protection against various safety threats encountered in harsh work conditions.
Key Advantages of Keen Utility
Sporty design
The same sporty silhouettes seen in Keen hiking boots are showcased in their work boots, which look like a hybrid between hiking and work footwear.
Most Keen Utility work boots don't have the heavy industrial look that some work footwear options have. Nonetheless, only some of them can be worn as casual boots.
Excellent traction
Keen Utility work boots are designed to provide exceptional traction. Whether the workplace is outdoors or indoors, these work boots will have no trouble strongly gripping the surfaces you walk on. This superior level of traction offers increased stability to keep you walking safely without losing your balance while in the work area.
Comfortable
These work boots are built to withstand challenging conditions and keep the feet comfortable all day long.
Keen Utility uses the proprietary Keen Luftcell midsole featuring an air-infused structure that supports the entire foot with a weightless feel. Other features, such as the Keen San Jose's unlined leather, ensure superior comfort that doesn't require a long break-in period.
Roomy toe box
Keen is widely known for boots that have big toe boxes.
This extra room gives the toes ample space to wiggle as needed, making it easier for the foot to flex naturally to prevent cramps from setting in. The wide toe box gives the toes enough breathing space (quite literally), ensuring that more air can circulate so that the foot doesn't feel overheated even with long hours of boot-wearing.
Wide sizes available
Keen Utility offers high-quality work boots in wide sizes for men and women.
This is on top of the wide-toe box for which most of the brand's products are known. The wide-size options offer more comfortable experiences for those with wider foot anatomies, enabling them to walk and work more efficiently without painful pinching with each step.
Durable
Just like its boots that don't give up after countless miles of hiking through tough terrain, Keen Utility's work boots are just as durable to easily keep up with challenging job sites. These boots are built with high-quality materials and top-notch construction to ensure they can continue to deliver superior performance for a long time. They also feature advanced technologies that enhance protection, comfort, and functionality.
Strong water resistance
Keen Utility manufactures work boots that mostly offer strong resistance to liquids. These work boots use either water-resistant leather or the exclusive KEEN.DRY membrane to seal out water and other moisture sources, keeping the feet dry while working in bad weather and other conditions exposed to severe wetness.
Environmental impact-reducing practices
Keen is dedicated to limiting its impact on the environment with its manufacturing processes.
The brand's work boots are designed with eco-friendly odor control to eliminate the need for pesticides, responsibly sourced leather from tanneries certified by the Leather Working Group, and PFC-free water repellent to get rid of PFC chemicals that harm the environment.
Key Disadvantages of Keen Utility
Typically, more expensive than Timberland PRO
Keen Utility work boots are typically more expensive than Timberland PRO products.
While the difference in prices can be justified by the exceptional quality materials, comfort, technology, and construction, work boots by Keen still aren't the top recommendations for those who are after the most affordable choices.
Tend to be heavier than other boots
Keen Utility work boots tend to weigh more than most work footwear because of their durable construction and robust sole designs.
One of the brand's top products, the Keen San Jose Aluminum Toe Work Boot, stands out with remarkable features but in a fairly lightweight structure.
Uses of Keen Utility
Keen Utility work boots are designed to provide maximum benefits in widely diverse work environments, making them ideal for the following jobs:
Kitchen staff
Carpenters
Plumbers
Warehouse personnel
Timberland PRO
Timberland PRO work boots come from the company's footwear specifically built for professional use. Unlike regular Timberland boots that are popular as lifestyle footwear choices, Timberland PRO boots are designed with high-performance and protective features to keep up with the demands of different job environments.
These boots have rugged structures to withstand heavy use on the job, but most also have versatile styles that won't look out of place when used in non-work settings.
Key Advantages of Timberland PRO
Safety features
Timberland PRO work boots go all-out when it comes to protecting the feet against safety hazards.
These work boots can feature a wide range of safety features, such as safety toe caps to protect against toe-crushing injuries, electrical hazard protection, penetration-resistant plates on midsoles, and metatarsal guards to keep the top of the feet safe from impact and compression threats. These safety components work alone or hand-in-hand to ensure enhanced foot safety, especially in hazardous work environments.
Anti-Fatigue Technology
Timberland PRO uses its signature Anti-Fatigue Technology in most work boots to deliver exceptional foot comfort.
This proprietary system uses geometrical technology for maximum energy return and shock absorption, supporting the foot to maintain its stable position to promote long-lasting comfort even after long hours of walking or staying upright.
More affordable than Keen Utility
Timberland PRO work boots are typically more affordable than Keen Utility footwear.
This makes Timberland PRO a better choice for those who prefer relatively cheaper work boots that still offer superior performance and protection in various work settings. Even better, these boots deliver remarkable comfort even with the lower price points (compared to Keen Utility).
Durable, high-traction outsoles
The work boots from Timberland Pro generally have high-traction soles that support the feet and help maintain balanced footing over various surfaces. In addition, most of these boots are equipped with thick outsoles with pronounced lugs that firmly grip the ground, preventing slipping even when navigating wet or unstable surface conditions that may be encountered in challenging work areas.
Versatile styles
Timberland Pro work boots come in a wide variety of designs, with some looking a bit more industrial than others and some featuring sporty profiles. However, even the ones with rugged silhouettes still have enough style to pair remarkably well with non-work outfits, making it easier to fully enjoy these work boots' features even after clocking out.
Reliable waterproofing
The Timberland name is known for work boots offering exceptional waterproofing, dating back to 1973 when the company first introduced its waterproof Yellow Boot.
The brand's waterproof boots use a dedicated system composed of waterproof leather, seam-sealed construction, and waterproof lining that maintains continuous breathability.
Other components, including the zippers and tongues, are enhanced with water-resistant coatings to increase the work boots' liquid resistance further.
Durable construction
Timberland PRO work boots are created to be as tough as – or even tougher than – the demanding work environments wherein they'll be used.
The high-quality materials and construction methods work together to produce work boots that can stand the test of time while performing at an exceptional level, even with exposure to more than normal wear and tear. In addition, these boots won't easily fall apart when used regularly for physically taxing jobs, so you can depend on them to keep you company through the toughest tasks.
Key Disadvantages of Timberland PRO
Heavier than other work boots
With most Timberland PRO work boots featuring robust designs, it's not surprising that they also come in heavier profiles.
The heavy-duty construction offers enhanced durability and protection in different work settings. However, these work boots still need to be recommended for those who prefer lightweight footwear that may be more comfortable for long walking or standing.
Soles aren't very flexible
Timberland PRO's rugged outsoles deliver superior traction to prevent slipping on tricky surfaces.
However, they tend to feel rigid most of the time, resulting in awkward movements and discomfort while walking – especially before the boots are properly broken in.
Uses of Timberland PRO
Timberland PRO work boots are designed to provide superior protection, performance, and comfort for a wide range of professions, including:
Construction workers
Electricians
Manufacturing personnel
Waiters
Personal Testing Experience
It's time to discuss our experiences using two top-notch products from the brands we just reviewed – the Keen 6-Inch San Jose Work Boot and Timberland PRO Titan 6-Inch Alloy Toe Waterproof Work Boot. The Keen San Jose Work Boot had a stylishly streamlined look, so it was almost surprising to discover that it had an aluminum toe cap to protect the toes against crushing injuries. The water-resistant lining protected against wetness but was still breathable to promote good ventilation. It's remarkably tough and durable and features the KEEN Luftcell midsole that delivers weightless comfort. However, the boot felt a bit lose at the back and rubbed uncomfortably on the heel.
Meanwhile, the Timberland PRO Titan Alloy Toe Work Boot had a waterproof membrane that protected against water and blood-borne pathogens. The electrical hazard-safe design offered secondary protection against electrically charged items, while the alloy toes protected against impact and compression hazards. The heat-resistant Timberland PRO rubber outsole delivered strong traction to prevent slipping on challenging surfaces. This boot is comfortably cushioned, but we also felt some discomfort in the inner ankle area.
Conclusion
Keen Utility and Timberland PRO are popular brands for work boots that offer superior performance and protection without sacrificing comfort and style. Keen Utility work boots are built using eco-friendly practices and are generally comfortable and durable, with sporty, hiking-looking designs that feature wide toe boxes, strong water resistance, and excellent traction, and are available in wide sizes. However, they're often more expensive than Timberland PRO and heavier than other work boots. On the other hand, Timberland PRO work boots are known for versatile, durable styles featuring various safety features, high-traction outsoles, strong waterproofing, Anti-Fatigue Technology, and lower price points than Keen Utility. However, they're also heavy, and their soles could be more flexible.
FAQs
Are All Keen boots made in the USA?

Keen has a special line called "American Built" featuring products assembled in the USA, using materials from around the world. Keen shoes and boots are made in the company's Portland (Oregon), Thailand, and Mexico factories.

Are all Timberland PRO work boots waterproof?

No, some designs don't have waterproof materials.

Do all Keen Utility work boots have thick outsoles for strong traction?

No. Some of the brand's boots, such as the Keen San Jose Boots, have streamlined soles that still deliver exceptionally strong traction.

Are Timberland PRO work boots ideal for wide feet?

Timberland PRO work boots, such as the Timberland PRO Titan Alloy Toe Work Boot, are offered in regular and wide-size options for those with wide feet.
---