Wedge Soles Explained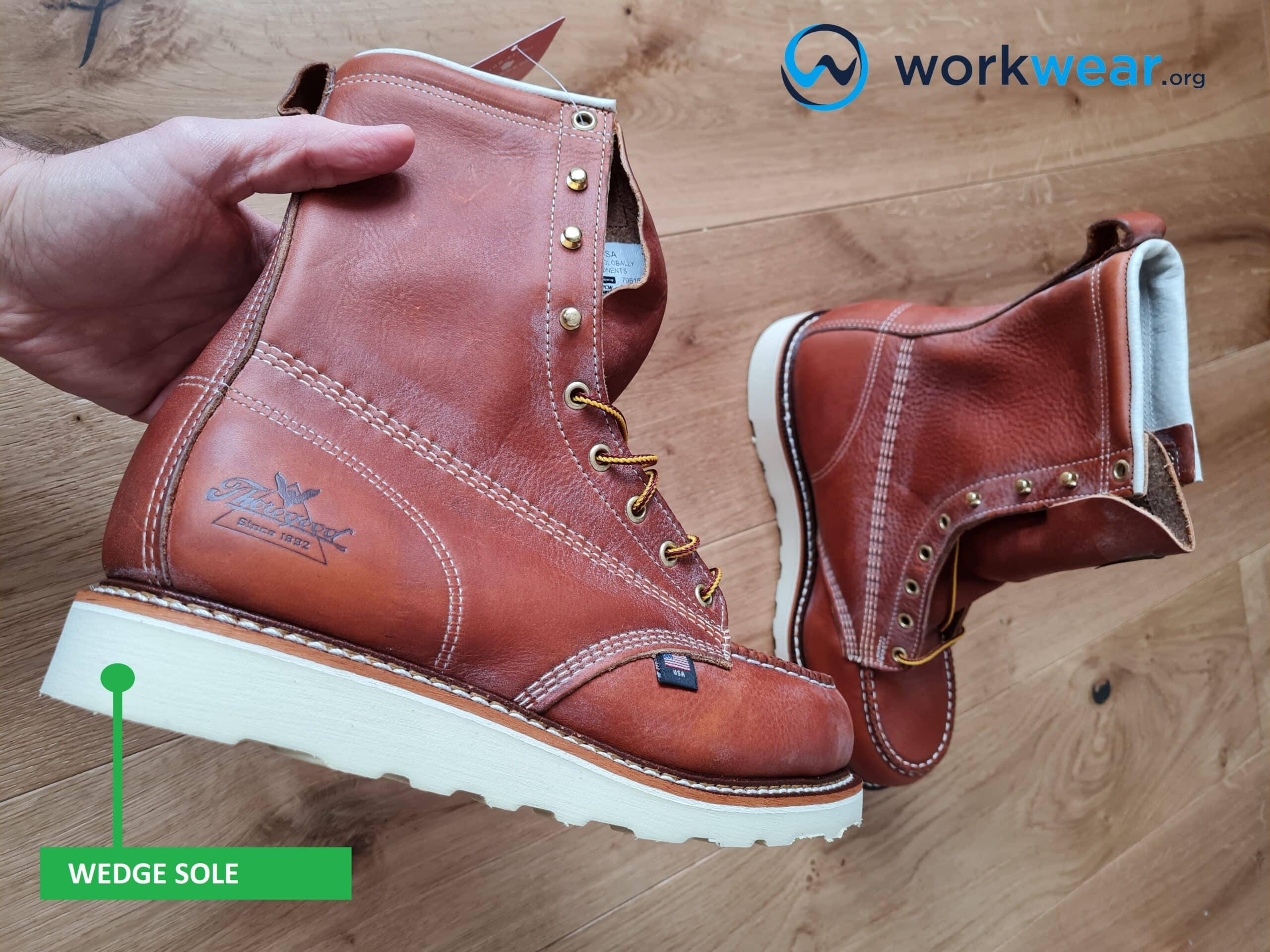 Work boots are crucial to your overall comfort and productivity at work. Although wedge soles are getting popular, most people still don't know their purposes and how useful they are in different settings. On the other hand, this footwear style is quite comfy. This is especially true if you work hard and are on your feet for lengthy periods.
What are Wedge Soles?
Wedge soles are a single piece of rubber (or other material) that extends from heel to toe, allowing for a wider contact surface area with the ground. Wedge soles are specially used in Mac toe boots.
The narrow toe design, u-shaped stitching, and raised seam work that is distinctive of these styles of shoes make moc toe boots easy to detect.
Boot soles are simply a tool for a certain activity; they perform a function in a specific way, and if that function matches what you're doing, it makes whatever you're doing that much simpler. Maybe you've been considering whether or not you need wedge-soled work boots.
Your need mostly depends on the sort of labor you perform and the work you do. Work boot companies like Thorogood were established due to the broad popularity of wedge sole work boots in specific industries or locations.
What are the purposes of wedge soles, and are they any good to use?
You can wear wedge-soled boots daily. Wedge soles are ideal for framing, building, and other jobs that require you to operate on hard surfaces. You don't have to be doing anything extremely demanding to take advantage of their all-around comfort. If you're wondering why anybody would consider purchasing wedge sole work boots or if you'd benefit from a pair, think about the type of job you do and where it takes place.
Do you do any of your work on hard surfaces? Do you work on solid ground or uneven ground for most of your time? If that's the case, wedge soles are the best option for you. The softer heel striking, excellent support, and gripping nature of the wedge sole are fantastic matches for those who don't require the absolute maximum in traction and support.
Features of Wedge Soles
According to my experience, the wedge sole is a wonderful choice for a work boot if you operate on rough surfaces or require excellent grip in an indoor location. The main benefit of wedge sole work boots is that they offer a wider contact surface area than standard work boots. Furthermore, wedge soles have the following characteristics.
Comfortable
Wedge sole work boots, as the name implies, have a wedge-shaped sole that rises gradually towards the heel, providing a lift. It indicates they have a completely covered touch surface. This feature makes these shoes extremely comfy, particularly for flat-footed wearers. Furthermore, if fashioned from the right fabric, a wedge sole may provide the boot with good grip.
Stylish appearance
Apart from their effectiveness, they also look stylish, so you can wear them even after your workday and still look decent. Although these boots bring a fashionable advantage to those who wear them, they also have certain disadvantages. Even though they provide adequate traction, they aren't exceptional in this area. Working in difficult terrains such as woodlands will not benefit you. In this and similar situations, lug sole boots are the way to go.
Flexible
Work boots with a wedge sole offer more flexibility than other work boots. This feature makes them a good alternative for folks who want a more natural barefoot sensation when walking, as dragging the heels of typical work boots can be painful.
Durable
Furthermore, the rubber used in the soles is long-lasting and resistant to oil and heat. Because of their flat soles, they are also very easy to clean. This benefit makes them less prone to track dirt indoors.
What Jobs are Wedge Soles Ideal for?
It's no surprise that manufacturing employees were the first to wear wedge-soled work boots. Such boots are an excellent alternative for those who operate on hard surfaces like concrete as they give a lot of stability. People who labor on hard surfaces for extended periods swear by these boots and prefer them to standard work boots because of how effectively the wedge sole cushions the foot from shock.
If you work in a factory or as an auto mechanic, wedge soles are the way to go! It is essential to feel comfortable and have your feet covered when spending long periods standing and walking. It will result in less weariness and discomfort, and you will come home feeling fine rather than exhausted. But these shoes aren't simply applicable to manufacturing employees or mechanics! Wedge soles work well in warehouses and construction sites, among other places. They're ideal for jobs that don't need a lot of traction.
Because there is a greater surface area that touches the ground, the force of the impact is distributed more evenly than on a standard boot sole. For this reason, a factory worker, mechanic, or warehouse worker may choose a wedge sole work boot over a lug sole work boot since many users consider wedge sole work boots to be a little easier on the feet. Workers who spent their days on hard concrete floors realized that a single-piece sole protected their feet from shock and started wearing them more often.
It's not so much that wedge soles have greater shock absorption; work boots that fit the wearer's feet and overall structure feature this quality as well. Thus, wedge-soled work boots are no better than standard work boots.
What is the Difference between Normal Soles and Wedge Soles?
If you've come to this section, you're seeking information about which outsole to use on your shoes and would be ideal for your specific workplace.
Comparison Table
| Features | Wedge soles | Normal soles |
| --- | --- | --- |
| Comfort level | | |
| Design | | |
| Panels | | |
| Out-soles | | |
| Maintenance | | |
| Prevents pain | | Pressure points can cause pain |
| Durable | | |
What Brands Make Them?
Purchasing work boots produced in the USA might be costly, but you can anticipate considerably higher quality than you would with imported boots. Work boots with a wedge sole are renowned because the flat sole relieves stress on your feet and allows for a more pleasant workday. Some of the brands that make wedge sole boots are Red Wing USA Heritage, Danner Men's Bull Run, Nicks Boots Traveler, and White's Foreman. Although prices vary, Thorogood American Heritage offers some of the most affordable and durable American-made wedge work boots in my experience.
Thorogood American Heritage 8″ Moc Toe Work Boots
You'll need wedge work boots with a certain set of characteristics that work perfectly for you. I spent time researching, testing, and selecting what I consider to be the finest wedge work boots.
Style
You'll notice the shape, a traditional Moc Toe with a u-shaped piping pattern going down the top of the toe box. The tobacco leather has a lovely golden sheen, and the contrasting white stitching around the upper part is a nice touch.
The Moc Toe is available in four different colors, each with a white wedge sole, four eyelets, three-speed hooks, and colorful laces. The top has a lot of triple stitching, which is vital for longevity because these are normally the first components to break down. And the USA flag tag is boldly displayed on the boot's exterior.
Speed hooks
The Thorogood American Heritage moc toe work boots have a rough look similar to Wolverine or Red Wing work boots. They have three normal eyelets, three-speed hooks, and a single closure at the end.
The speed hooks make lacing simple. It is my preferred method of lacing up my hiking boots or shoes since it "locks" the heel in place and prevents the soles from sliding.
Comfortable height
They're about 8 inches tall and run halfway up my calf. The top of the boot has noticeable white contrast stitching, and the Thorogood is embossed over the heel of both the left and right boot. I appreciate how the logo is emblazoned on the leather. Furthermore, the shoes have a flat sole rather than a split heel, making them easy to navigate a building site and pleasant to wear all day.
Versatile
The American Heritage 8″ Moc Toe Work Boots are versatile. It's difficult to deny that any moc toe-type boot can be glammed up, but this is a boot that you can wear casually and professionally. Although there is no steel toe, the sole is particularly resistant to electrical charges; therefore, it may not fulfill the standards of some work situations.
No feet and knee pain
Working long hours on hard floors in comfy work boots that protect your feet and knees is a great experience for a worker.
I like these Thorogood American Heritage wedge work boots because they have cushioned footbeds and insoles that provide shock absorption to keep your feet and knees safe from walking on hard surfaces. These boots, in my experience, fit snugly and comfortably. Like any other leather work boot, you can expect these boots to stretch out slightly as you break them in.
Slip-resistant
Also, the MAXWear wedge slip-resistant outsoles of the American Heritage work boots effectively gave me the grip I needed to avoid slipping and falling during the testing period.
Safety standards
MAXWEAR's slip-resistant traction outsole flexes more than conventional work boot outsoles, absorbing impacts and protecting your feet when working on rough terrain. They keep you steady on flat, damp, and slick terrain and loose gravel. The MAXWear Wedge meets the ASTM F2413-18 or ASTM F2892-18 electrical hazard safety criteria. It complies with ASTM F3445-21 slip-resistance requirements.
Conclusion
Picking the right work boots is critical to your overall productivity and comfort at work. It should be very simple to make the appropriate choice now that you have the necessary knowledge regarding the advantages of wedge sole work boots.
In my experience, the Thorogood American Heritage 8″ Moc Toe Work Boots are softer and more flexible than regular soles and slightly thicker. It was an excellent buy for me, and I encourage you to try it.
It's always best to prioritize quality over quantity. Consider the surfaces you'll be working on and the duties you'll be performing to choose the ideal work boots for you. Keep the quality of the footwear into consideration as well.
FAQs
Is it possible to wear wedge-soled boots on concrete?

When working on concrete, it's critical to protect your feet from suffering the consequences of walking on a hard surface. Wedge soles, as well as an elevated heel on a logger-style boot, are ideal for this.

Is it good to use wedge soles in the winter?

If you live in a region where you are exposed to a lot of moisture, wedge soles are not ideal footwear for you.

What is the lifespan of a wedge sole?

A decent wedge sole boot from a reputable manufacturer should last you 4 to 8 months, provided the sole is composed of high-quality rubber.

Is hiking with wedge soles a good idea?

Wedge sole boots aren't perfect for hiking since they don't have defined heels to provide support as you descend slopes, and they don't have deep lugs or treads to provide adequate traction in mountainous terrains.
---