Cowboy Boots vs Western Work Boots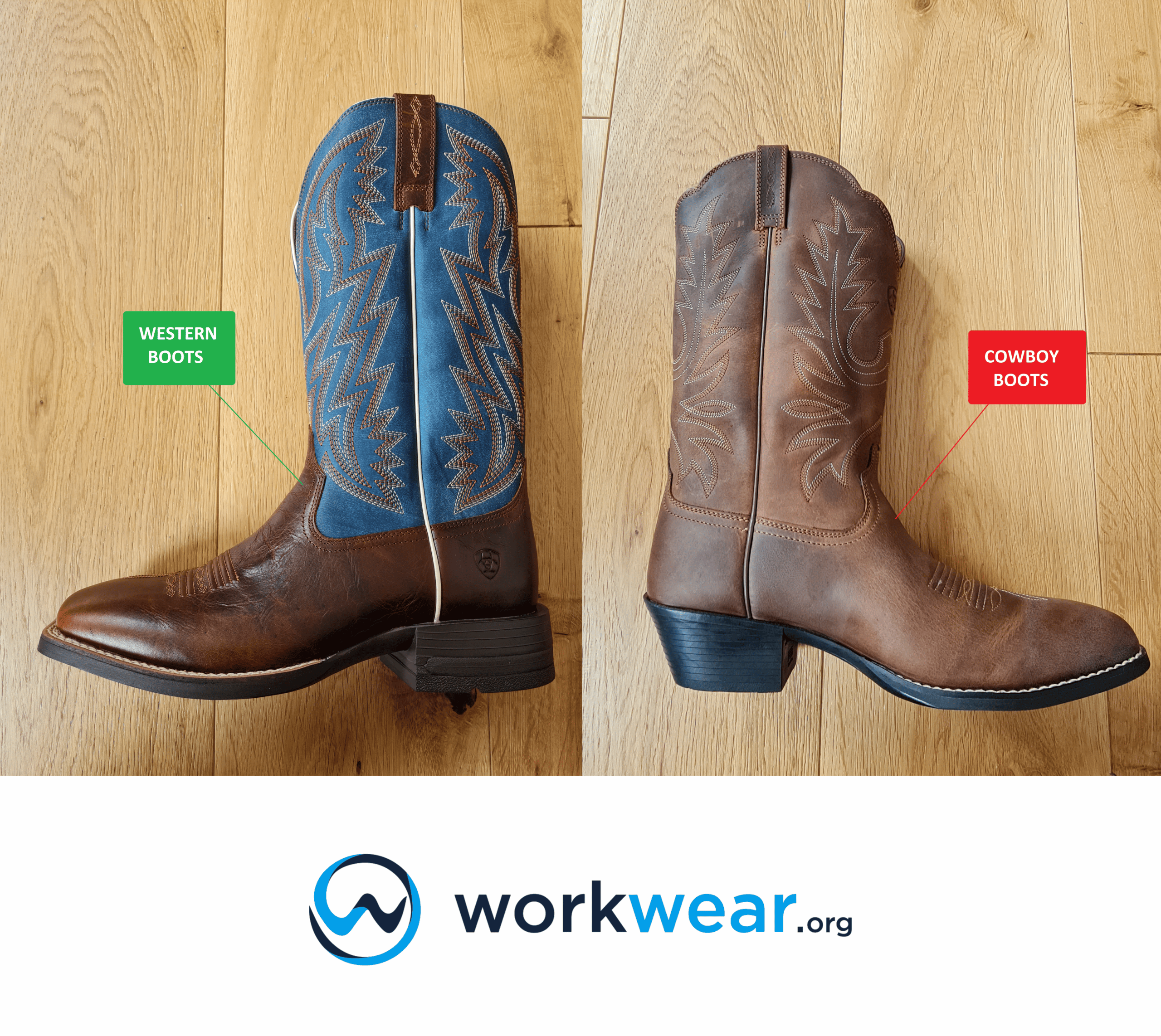 This article will compare cowboy boots side by side with Western work boots to give you a clearer picture of the advantages and setbacks (if any) that you may encounter with each choice.
The terms "cowboy boots" and "Western boots" may be interchangeable for some, especially since their overall profiles look pretty much the same. If we go into the technicalities of each term – a cowboy boot is a type of Western boot, which, in itself, encompasses several different style options including fashion boots, riding boots, and ropers.
Cowboy boots are preferred by fashion-forward individuals mainly because of the stylish silhouette that showcases the much-loved Western vibe. These are used for riding and daily wear, but the traditional design isn't the best for more strenuous activities.
Meanwhile, Western work boots are very similar to the roper style which is considered more functional and versatile. They're built to deliver the toughness that's needed to support the foot over long hours of walking or standing, making them ideal for a variety of work settings. Both boot styles feature intricate stitching, providing eye-catching accents that instantly boost the aesthetics of even the plainest casual or work attire.
They're both made with leather that showcases a rich texture but is also tough enough to keep up with your preferred activities. Choosing between the two Western–style boot options can be quite challenging because they have a lot of similarities. It's important to get to know the differences between these options to ensure that you'll get the greatest number of benefits from your boot purchase.
Cowboy Boots
Cowboy boots have the most recognizable profile among the different Western boot styles. It has a high shaft that can reach up to 12 inches in height, providing enhanced protection for the calf area while riding a horse. This extended height also offers increased protection from hazards in the environment, as well as extra support to keep the ankle firmly in place while walking or doing other activities. A traditional cowboy boot has a distinctively angled heel that helps keep the foot secured in its proper position in the stirrup. The absence of sharp corners on this angled heel makes this boot gentler on the horse. This boot features a more pointed toe compared to the romper or work boot style, resulting in a sleeker silhouette that can be less comfortable to use for prolonged periods of walking or standing.
The soles of classic cowboy boots are often made with leather that conforms to the foot's shape over time, although they're not as robust nor as protective as thick rubber soles that are fitted into other boots.
Key Advantages of Cowboy Boots
Sleek Profile
A cowboy boot is built with a tapered toe that can have a slightly rounded, pointed, or snipped tip. This design gives the boot a sleek look that works remarkably well with a variety of outfit choices. Unlike boots with wide, round toe designs, the cowboy boot looks more fashionable, so it can easily enhance the aesthetic of different attire and can even be used with dressier, more formal ensembles without looking out of place in the process. The narrow toe profile also makes it easier for the foot to be slid in and out of the stirrup.
Distinctive Western Aesthetic  
Cowboy boots feature decorative stitching that showcases the Western vibe, resulting in a striking look that men and women all over the world love to display along with various outfits. The stitching can be done using thread that's the same color as the leather to achieve a more streamlined look all throughout the boot. It can also use multiple thread colors for a more elaborate appearance that can significantly elevate the aesthetic of your entire ensemble.
The tall boot construction also contributes to the unique look of cowboy boots, making them stand out among other leather boots when it comes to style. Another component that gives a cowboy boot its distinctive look is the angled heel that isn't normally seen in other boots and footwear options.
Boosts Height
Cowboy boots are fitted with heels that are usually at least 2 inches in height (although some heels can be as low as 1.5 inches), providing a height boost that can be a huge advantage to shorter individuals. This elevated heel height is ideal for keeping the boot secured in the stirrup for a safer and smoother riding experience. The heels on cowboy boots work to ease the strain on the joints more stable and comfier walking.
Extended Coverage and Support
The tall structure of the boot covers a wider area, protecting more of the calf and leg against abrasion and other safety hazards that may be lurking around the area where you need to walk on. This tall height also offers enhanced support to help make your steps more stable, so you can walk and move quickly without easily losing your balanced stance. The extended boot height also works to support the ankle, securing it in the proper position so it won't easily be twisted when you walk at a hurried pace on challenging surfaces.
Convenient Lace-Free Design
Cowboy boots are designed without laces so they can conveniently be pulled on. This style eliminates the need to fiddle with laces with every use, allowing you to shorten your preparation time so you can proceed to the day's tasks without delay.
Key Disadvantages of Cowboy Boots
Not for Prolonged Walking or Standing
The sole of cowboy boots tends to be flat, so it's not the ideal choice for activities and jobs that involve staying on your feet for extended periods. The absence of strong arch support increases the risk of developing fallen arches, which can lead to a great deal of pain when you need to walk or stand for a long time.
Can be Challenging or Uncomfortable to Pull On
The tall height can make the cowboy boot quite difficult to pull on, especially if the leather material is a bit stiff and hasn't been broken in yet. Extra effort may be so that the extended boot shaft can successfully accommodate the foot's entry. Depending on how tall the boot is, more effort may be required to maneuver the foot into the correct position before a comfortable feel can be achieved.
Low-Traction Sole

A cowboy boot's sole is made with leather that's designed to mold to the foot's shape over time. While this material may bring a customized feel, it also has the disadvantage of having a low-traction structure. This means that slipping is a risk when walking in slick or unstable ground conditions since the outsole won't have the power to grip surfaces firmly unlike high-traction rubber soles.
Western Work Boots
A Western work boot looks similar to a roper and, as the name suggests, is designed to deliver enhanced performance in different work conditions. These boots typically have a shorter structure compared to cowboy boots, often going up only until above the ankle area, so they're easier to pull on. They have a rounded or square toe that delivers more space for the toes to wiggle so that foot discomfort can be prevented from setting in while you work on the day's tasks. Western work boots also feature the intricate stitching that can be seen in cowboy boots, delivering the Western aesthetic that remarkably boosts the stylishness of both workwear and casual outfits.
These boots' heels aren't as high as that of cowboy boots, making them more suitable for long hours of walking or standing while delivering the right amount of stability. The outsole of ropers or Western work boots is often made of rubber, providing a stronger grip to promote enhanced safety while walking on slippery or uneven work surfaces.
Key Advantages of Western Work Boots
More Spacious Toe Box
Western work boots are designed with roomier toe box structures compared to cowboy boots. This allows the toes to freely budge to stop cramping, especially when you work long hours on your feet. These boots' toes can have a rounded or square shape that's wider than the cowboy boot's pointy structure.
Less Ankle Restriction
The shorter shaft of a Western work boot allows the ankle to move with more freedom compared to using a tall boot. This results in increased comfort as the ankle can bend and move more naturally without being hampered by a restrictively tall boot structure but doesn't compromise the ankle's stability in any way.
Easier to Pull On
The shorter boot height has the added benefit of promoting more convenient boot-wearing. Without the extended height, the boot is easier and more comfortable to pull on without requiring extra effort and time.
Thicker Sole with Increased Traction & Flexibility
A Western work boot's sole is thicker compared to the leather material that's commonly fitted into a cowboy boot. The sole is usually made with rubber that offers enhanced grip on various surfaces, making the boot perform better and a lot safer in wet work conditions and in settings where slipping is a risk. This sole design gives the boot the flexibility that it needs to be able to move along with the foot's action, making walking more comfortable even over long periods.
Lower Heel for Comfort and Stability
Western work boots feature heels that are lower than the ones that are found on cowboy boots. The chunkier heel offers improved stability on different terrains and floor conditions. It also makes walking and standing easier and more comfortable as it delivers the right level of support without straining the foot too much.
Western-style Stitching
The stitching that gives cowboy boots that appealing Western vibe can also be seen in Western work boots. The patterns can be simple, such as the stitching found on the Ariat Rambler Western Boot that has the same color as the leather for a streamlined look. On the other hand, the Dynamic Western Boot from the same brand showcases a more elaborate appearance, with multi-colored stitches beautifully popping out against the rich leather material.
Comfort Enhancements
Western work boots can be fitted with enhancements that aim to increase comfort. Examples of these enhancements include cushioned insoles and fabric lining that surround the foot with soothing softness. Some work boots with a Western style, such as the Ariat VentTEK Ultra Western Boot, have breathable components and a lightweight structure for comfort enhancement. Other boots feature shock-absorbing heels that soak up the force resulting from walking on hard surfaces to prevent foot pain from setting in.
Safety Enhancements
Western work boots are designed to withstand the demands of various work settings. Some of these boots are built with waterproof materials that protect the feet against uncomfortable dampness if the environment is constantly exposed to wet elements. Meanwhile, some of these boots feature safety toe caps that shield the feet against injuries that can be caused by impact and compression hazards that may suddenly fall on the boot from high areas in the workplace.
Key Disadvantages of Western Work Boots
Can Look Too Rugged
Western work boots are constructed with a more robust design to keep up with more demanding work environments. They often have a heavy-duty appearance that can be too rugged, especially for those who prefer the sleek profile of cowboy boots. This silhouette may not be suitable for use with dressy or formal outfits that will benefit more from the streamlined design of cowboy boots.
Some Models Have Less Elaborate Stitching
Western work boots are built more for function rather than form, so some styles feature less intricate stitching patterns. Although the plainer look doesn't have a negative effect on the boots' performance, it may not be welcomed by those who choose Western-style boots mainly because of their eye-catching appearance.
Cowboy Boots vs Western Work Boots – Comparison
| Structure | Cowboy Boots | Western Work Boots |
| --- | --- | --- |
| Toe Structure | Narrow – pointed/ rounded/snipped at the tip | Wider/broader – rounded or squared |
| Boot Shaft Height | High – at least mid-calf or approximately at least 12 inches in height | Lower- mid-calf or lower, approximately 9 to 12 inches in height |
| Sole | | |
| Heel | Angled, approximately at least 1.5 inches in height | Low and square, approximately 1.5 inches or shorter |
| Decorative Stitching | | Yes – some with more low-key patterns and/or colors |
Conclusion
Choosing between a cowboy boot and a Western work boot can be made a lot easier by taking into consideration each option's unique attributes. This will enable you to filter through the qualities that are essential for your job or activities, so it will become easier for you to determine which choice will deliver the greatest benefits. Getting to know each option's strengths and weaknesses can guide you towards making the best decision so you can maximize your purchase of the best cowboy boots or Western work boots.
FAQs
Can tactical boots be used for jobs or activities other than military or law enforcement?'

Yes. Tactical boots with tall structures will benefit hunters who can enjoy extended coverage against abrasive materials, small critters, and other threats encountered while spending a lot of time outdoors. Tactical boots often have sporty profiles that are ideal for hikers, as they can move more easily and quickly, given the boots' minimized weight and flexible design.

Is leather the best material for tactical boots and combat boots?

Not always. While leather offers superior strength and resistance to damage, there are conditions where synthetic materials may function better. For example, in extremely warm environments, leather tactical or combat boots are more susceptible to overheating (unless they have a dedicated cooling system). On the other hand, synthetic materials can let in more air while allowing moisture and heat to dissipate, keeping the boot interior cool and comfortable for longer.

Can black tactical or combat boots be used for military duty?

No – for compliance with the regulations for footwear for military use, combat boots or tactical boots must come in either coyote tan or tan.

Is it okay to wear combat boots or tactical boots with casual (non-uniform) wear?

Yes – more people are now using tactical boots and combat boots as fashion pieces that add an interesting dimension to outfits. The boots inject a bold or rebellious statement, and with most of these boots fitted with comfort features, they're considered fashionable and convenient enough to use off-duty.
---