Dr Martens Story – From Humble Work Boots to Fashion Statement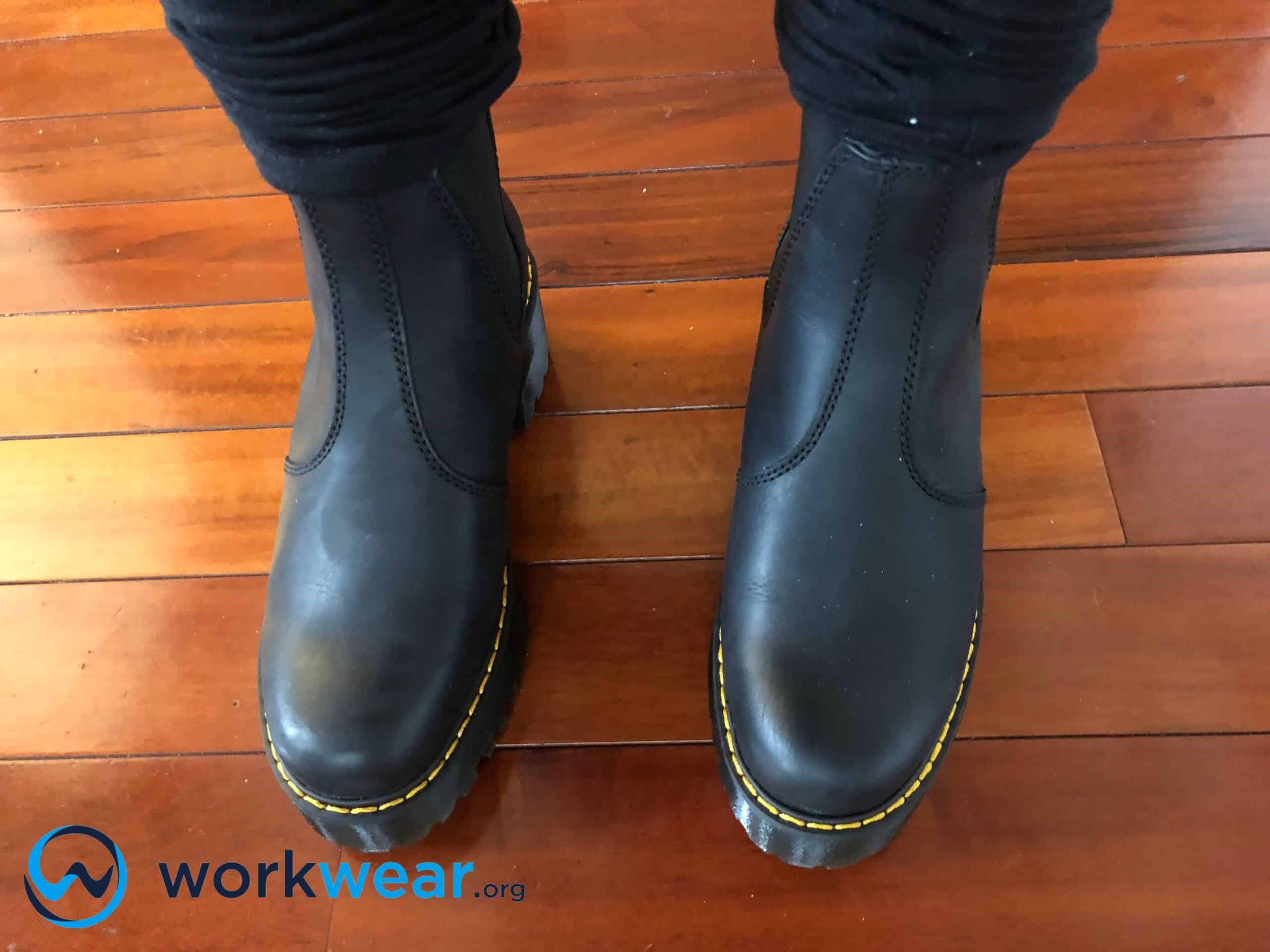 A pair of DMs or Dr Martens boots can instantly amp up the coolness factor of your overall look but also comes with high-performance features. The brand's iconic boot silhouette doesn't come with extremely trendy designs, mostly retaining the classic profile that's versatile enough to be worn for work, errands, and even as an edgy addition to the simplest outfit. This is one of the reasons why the timeless combat boot designs with their distinctive yellow stitching continue to be favorites among free-spirited individuals and those who want to veer away from the norm. In this article, we'll seek the qualities that make Dr Martens boots stand out among other combat boot and work boot choices – and what keeps them close to the heart of fanatics for several decades.
The History of Dr Martens
Dr Martens' history started in 1945 in post-war Munich, Germany. A young soldier named Dr Klaus Maertens had a foot injury and was suffering from the discomfort caused by standard-issue army boots that were too stiff and unyielding. With plenty of time in his hands as he was recuperating, he started designing an air-padded sole using a needle and a reclaimed cobbler's last, which he then showed to a mechanical engineer friend named Dr Herbert Funk. The two became partners and began making innovative shoes using neglected military supplies, with formal production starting in 1947.
By 1959, the partners decided to advertise their unique footwear in international magazines – where the innovative product caught the eye of Bill Grigg. His family was known for making sturdy work boots in Northamptonshire, England, since 1901.
The Griggs company obtained the exclusive license to the air-cushioned footwear. As a result, it made some changes, including the distinctive yellow welt stitching, unique sole design, and a simple upper with a rounded profile. In addition, the boots were given the brand "Airwair" and were built with a yellow and black heel loop.
The iconic eight-holed 1460 Dr Martens boot was introduced on April 1, 1960, with the product name derived from the launch date. Originally worn as work boots by factory workers and mail carriers, the Dr Martens boot suddenly became quite popular with those who favored the working-class style, with skinheads and eventually The Who's Pete Townshend wearing it as a form of a rebellious fashion statement. The latter part of the 1970s saw the boot become a symbol of self-expression by British youth, and by the 1980s, the American subculture started appreciating DMs as well.
Dr Marten Stores in the USA and UK – Including the Flagship Store
The original Dr Martens store was part of the company's factory in Cobbs Lane Wollaston Northamptonshire, UK. Cobbs Lane was built as part of the village center workshop and as a factory and office building. In 2007, handmade Dr Martens Originals started to be manufactured again in the Cobbs Lane factory, where the exclusive Made in England range is still designed and produced. There are 34 Dr Martens stores in the USA, and 20 third-party stores. Meanwhile, there are 34 stores as well in the UK, with seven of them located in London.
Today, the Dr Martens Flagship Store is located in the heart of Camden Market, London – in a building that once served as a tack room where horses were re-shoed. The store includes a gig space with a cutting-edge sound system and a fully-stocked bar.
Where Dr Martens Boots Are Made
The brand has an exclusive Made in England range featuring some of the most iconic products, including the Originals – the 1460 boot, 1461 shoe, and the 2976 (the brand's version of the classic Chelsea boot). These renowned footwear choices are still handcrafted in the company's original Cobbs Lane Wollaston Northamptonshire factory.
Today, only 2% of Dr Martens boots are made in the UK, with most of the production moved to Asia in 2004 to save on manufacturing costs.
Dr Martens Vegan Footwear Choices
There's a line of Dr Martens boots, shoes, and bags manufactured using 100% non-animal synthetic materials. The footwear still showcases the proprietary air-cushioned AirWair soles and durable construction.
The first type of vegan material choice is called Felix – a polymer synthetic material that's technically called microfiber. It's the brand's alternative to smooth leather, featuring filament fibers so fine that the flesh side of the boots made from this material looks like genuine leather.
The second vegan alternative used for Dr Martens boots is Cambridge Brush – a non-woven, polyurethane coagulate material that gives off a glossy look aided by a mopping machine and exudes an antique two-tone finish.
Dr Martens Boots as Reliable Work Footwear
Dr Martens work boots are superb choices for work in the job environment, with air-cushioned proprietary outsoles providing a welcome bounce and helping bring the energy back to every step for a more comfortable experience. The durable leather construction of these boots is designed to withstand demanding activities and conditions, offering long-term benefits while also delivering remarkable aesthetics.
Doc Martens boots were originally used mostly by mail carriers, factory workers, and police officers. Nowadays, the same professions can still use iconic boots, which have evolved to offer high-performance use for demanding work environments.
The comfortable features make the boots ideal for jobs requiring long walking or standing hours in factories, construction sites, and other outdoor or challenging environments. Meanwhile, their stylish profiles make them suitable even for more formal office settings. Dr Martens makes soft and safety-toe versions of work boots to cater to varying workplace needs.
Alternative Brands to Dr Martens
While there are few alternatives to DMs because of their unique style and construction, there are a few options that can be considered if, for some reason, Dr Martens boots aren't available.
Solovair
Solovair is a brand that also originated in England, with the boots still produced by craftsmen by hand using high-quality materials for enhanced durability. The brand's Black Vegan Hi-Shine 8-Eye Derby Boot is similar to Dr Martens 1460 boot.
Grinders
Grinders became popular in the 1980s through the 90s for producing durable boots that were comfortable as well. These qualities make the boots ideal for daily use in different settings. The Kestrel boot has a similar design to DMs, and a Goodyear welted construction for enhanced durability.
Fluevog
Fluevog shoes are made in Portugal and come in a wide range of designs featuring innovative details. In particular, the Radio 2 Phil boot has a silhouette that looks a lot like Dr Martens 1460 boot.
Dr Martens Sizing and How They Fit
In general, Dr Martens are true to size – although this will depend on a case-to-case basis. However, classic styles like the 1460, Chelseas, and Jadons tend to run a bit big. Women can go for a smaller size when choosing men's styles. Dr Martens boots are only available in full sizes, so for half sizes; it's recommended that you go down to the next size for the best fit.
The fit varies from style to style, with some styles offering a better fit with downsizing or upsizing from your usual size. This should be considered before you decide on a specific boot size (you can also read our detailed size guide on Dr Martens sizing). Also, it should be noted that women's styles are narrower than men's or unisex style options – even if these choices come in the same sizes.
An Extra-Wide Work Boot Choice
Generally, Dr Martens boots and shoes come with roomy toe boxes, allowing wide feet to be accommodated comfortably. However, the company has a specific work boot choice available in an extra-wide fit – the 2295 Extra Wide Leather Slip-On Work Boot in a pull-on Wellington design featuring water-resistant leather, steel toe protection, and an electrical hazard-safe design.
Types of Dr Martens Boots and What to Wear with Them
Dr Martens makes soft-toed casual boots that fit many lifestyles and work needs. The steel-toed safety work boots are built to protect feet against compression and impact threats, especially in hazardous work environments. In addition, metatarsal guard boots are fitter with steel metatarsal guards, acting as extra layers of safety to keep feet safe from being crushed by heavy objects. The brand also has winter boots lined with the exclusive WarmWair faux fur material, regulating the temperature for continuous foot warmth in extremely cold conditions.
You can virtually wear anything with Dr Martens footwear. The boots can be paired with different cuts and lengths of pants and skirts, depending on the look you want to achieve. For a more laidback yet still stylish appearance, you can pair the boots with shorts and your top choice. The boots can add an edgy touch when paired with dresses and is classy enough to be used with more formal attire.
Materials Used for Making Dr Martens Boots and Shoes
Smooth Leather – this leather embodies the classic Dr Marten boots. The material starts as extremely stiff but gradually becomes more comfortable with each use as it molds to the foot's shape for a customized fit.
Nappa & Virginia Leather – the fine-grain leather has a supple and smooth texture, making the boot comfortable out of the box with a very short break-in period.
Patent Pamper Leather – this type of leather is characterized by a glossy, hard surface that mirrors light, with a flexible structure (a lot less stiff than smooth leather) that's almost completely waterproof.
Crazy Horse/Gaucho Leather – this leather has a waxy finish resulting from a unique tanning technique, producing impressions that can easily be seen in the boot's creases to create a chic distressed look.
Vegan Leather – Dr Mlixartens uses two types of vegan leather: Felix, which is technically referred to as microfiber and is the alternative to smooth leather, and Cambridge Brush which has a two-tone, glossy finish.
Best-Selling Dr Martens Boots
1460 Smooth Leather Lace-Up Boot
The original Dr Martens boot in smooth leather that's naturally stiff at the beginning, delivering maximum durability and strength to keep up with long-term use in different settings without succumbing to early deterioration. This iconic 8-eye work boot can be scuffed up for a stylishly laidback look or polished to a high shine to meet work requirements (or your preference). The sole and upper are bonded with Goodyear welt construction, with the attachment sewn and heat-sealed for lasting toughness.
Jadon Smooth Leather Platform Boot
This is another version of the classic 8-eye boot, delivering a more aggressive aesthetic with a distinctively powerful platform sole and smooth leather upper. This boot is still built with an air-cushioned sole, offering continuous foot comfort throughout the day, enabling you to walk and stand longer without aching feet. This sole is slip-and oil-resistance for increased stability while going over slippery or unstable surfaces, with fat and oil-resistant structure for enhanced durability even with exposure to these harsh substances. A side zip provides a more convenient way to wear the boot without needing to tinker with the laces.
2976 Smooth Leather Chelsea Boot
Made with smooth leather and a soft sheen, this boot is part of the brand's Lost Archives collection, with the original 2876 boot was first introduced in the 1970s built with Victorian-style origins. The ankle gusset easily adapts to the foot's shape for easy boot on and off. The pull-on style delivers superb convenience and stylish touch, making this a great choice that works with different outfits. It has an iconic brand script heel loop for easier maneuverability, allowing you to pull on and take off the boot without pulling on the leather components. The air-cushioned sole offers all-day comfort through a supportive, durable base.
Sinclair Milled Nappa Leather Platform Boot
Built with pebbled Milled Nappa leather, this boot offers a comfortably supple texture out of the box. It showcases a forceful silhouette with a Quad platform outsole that's Goodyear welted and heat-sealed to the upper, delivering maximum durability to withstand being used and abused in various surroundings for long-term benefits. The boot can be fastened using the front zip, resulting in easier boot-wearing while also exuding an aggressive aesthetic. For better fit customization, you can use the removable laces fitted to the sides of the front zipper to ensure the perfect fit all day long.
Audrick Nappa Leather Platform Ankle Boot
Constructed with a tough-looking base, this platform boot delivers a rugged appeal that instantly boosts even the simplest outfit choices. The Quad platform has a surprisingly lightweight structure, making the boot easier to use without the excess weight dragging your foot down. The sole is built with lightweight EVA components, and the PVC outsole is fitted with aggressive cleats for increased stability without the bulky feel. The soft Nappa leather has an inviting softness for effortless mobility. The upper and sole are Goodyear welted and heat-sealed to strengthen the whole welt stitch.
Classic Dr Martens Boots/Shoes
The following models are considered Classic Dr Martens footwear –
1460 Pascal 8-Eye Boot – first introduced in 1960, this is the brand's instantly recognizable and most popular boot style.
1461 Oxford Shoe – produced in 1961, this is the second style produced by Dr Martens and is now available in both leather and vegan options.
1490 10-Eye Boot – this mid-calf boot, with its extended lace-up profile, has a distinctive punk silhouette for a bolder look.
2976 Chelsea Boot – this boot gives the classic Chelsea silhouette a tougher aesthetic, increasing its rugged appeal with more attitude.
Jadon 8-Eye Boot – this boot has a classic style that's made edgier and more powerful-looking with the addition of a platform sole.
101 Boot – this ankle boot is one of the brand's most familiar styles, featuring air-cushioned soles for enhanced comfort and Goodyear welt construction for lasting durability in a sleek silhouette.
3989 Shoe – this unisex brogue shoe first came out during the middle of the 1960s, showcasing an eye-catching black and white color combination in a classy wingtip style. The exclusive AirWair Bouncing Soles are made extra thick for a defiant touch that doesn't compromise the footwear's overall style.
Unique Features of Dr Martens Boots
Shiny (and Sturdy) Leather – Dr Martens's smooth leather boots showcase a shiny exterior. This leather comes with a pronounced stiffness that requires a lengthy break-in period compared to the softer leather types used in other DM styles. However, this shiny leather will gradually become softer over time, creating a customized fit that offers remarkable comfort the more the boots are used.
AirWair Sole – These boots are fitted with the proprietary AirWair soles that use air bubbles to provide the much-needed cushioning, offering a bouncy feel that makes it more comfortable to walk and stand for long periods.
Goodyear Welted Construction with Yellow Stitching – The Goodyear welt construction significantly reinforces the attachment between the sole and upper, offering increased durability that can be relied on for years to come. This construction comes with distinctive yellow stitching that's then melted together for maximum bonding power.
Conclusion
Dr Martens is a popular brand among non-conformists or those who want to inject an edgy, rebellious, yet incredibly stylish vibe into their footwear. DMs are made to last for a long time, with leather uppers that offer remarkable strength to withstand challenging surroundings and activities while simultaneously delivering superior comfort with cushioned soles. With several classic and trendy silhouettes and structural enhancements to choose from, you will be able to find the Dr Martens boot that fits your work or lifestyle needs.
FAQs
Are US sizes the same as UK (British) sizes?

No, US sizes are typically one full size larger than their UK sizing counterparts. It's important to take note of this as Dr Martens boots and shoes use British (UK) sizes.

Does the leather of Dr Martens boots soften easily?

Typically, the leather used in Dr Martens boots and shoes doesn't easily soften. The footwear needs to go through a long break-in process before it can become flexible enough to be worn without pain since the stiff leather (out of the box) can dig into the skin while walking.

Aside from helping during the break-in process, does upsizing DMs have other benefits?

Yes, upsizing can also leave enough room inside to accommodate the placement of insoles, which can be used to improve the overall comfort of the boots.

Is it okay to go down 2 sizes for a more comfortable fit?

No, the best option is to go down just one size. After the break-in process, the leather of Dr Martens boots may stretch only a bit. This means that downsizing 2 sizes can lead to boots that feel uncomfortably tight even after properly breaking in.
---