Types of Work Shoes Explained: A Comprehensive Guide to Choosing the Right Footwear for the Job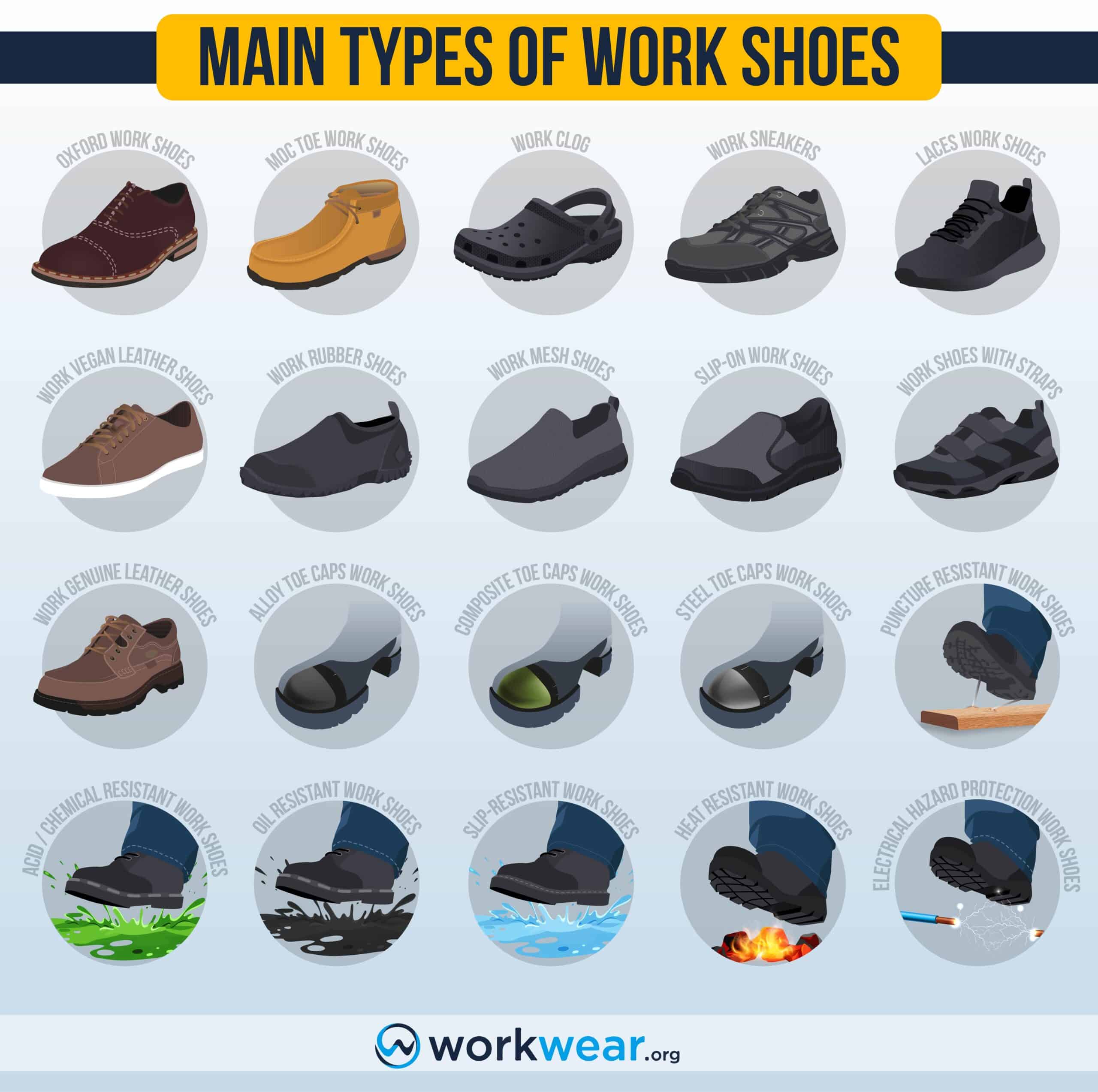 Having work shoes matching the job's activities and environment is important. However, looking for suitable work shoes can be daunting, especially since many designs and materials exist. Your personal preferences on comfort and style should also be considered. In this article, we'll look more into the different types of work shoes available today. We further divided the types into several categories based on the factors typically considered when selecting the most suitable work shoes.
Types of Work Shoes Based on:
A. Design
Work shoes come in different designs that offer equally varying benefits. Each design offers aesthetic benefits and functions in different ways compared to other options.
Choosing a work shoe design suitable for the specific job is important to ensure that the footwear looks and performs appropriately in the work environment.
Work shoes are now available in casual and formal silhouettes, so it's easy to find one that best suits your job requirements while allowing your fashion sense to shine through.
1. Oxford
Oxford shoes have a unique closed lacing system that hides the eyelets underneath the top of the footwear.
This style results in a tighter and sleeker appearance, making this design appropriate for more formal work settings.
Oxfords (such as the Clarks Vargo Plain Oxford) are typically made with leather, with laces of the same color as the rest of the shoe. They're suitable for indoor work environments since they're not rugged enough to withstand tough outdoor conditions.
Their narrow profiles may also bring discomfort when used for long periods of walking or standing, especially for those with wide feet.
Stylish appearance
Suitable for indoor use
Versatile – ideal for work and social settings
It can be uncomfortable when used for hours of walking
It may be unsuitable for wide feet
Professions/Jobs Ideal For

Lawyers
Office Managers
Professors
Hotel Sales Associates
2. Moc Toe
Moc toe shoes come with a U-shaped seam on the tip that delivers a unique look. It adds a bit of ruggedness to shoes that can be used indoors and outdoors, depending on the materials used.
The moc toe stitching makes the top more flexible, so these shoes are great for jobs that require a lot of walking, bending, or kneeling.
This distinctive seam also makes the toe box higher and more spacious for comfortable toe wiggling.
Moc toe work shoes (such as the Irish Setter Soft Paw Waterproof Oxford) are less dressy than Oxfords, so they're not appropriate for suits and settings that call for formal attire.
However, they're more versatile than dressier styles, which can easily be enjoyed with various outfits.
Ruggedly stylish
Versatile use
Flexible upper
Spacious toe box
Not suitable for formal office settings
Professions/Jobs Ideal For

Teachers
Retail sales staff
Drivers
Carpenters
3. Sneaker
Work shoes in athletic silhouettes are popular choices for those who want superior comfort and agility while on the job.
The sneaker design usually features lightweight materials and soft, flexible structures that don't restrict movement, making it more comfortable to walk (or even run, if needed) naturally for long periods. The sporty designs go well with jeans and other non-formal work wear, but they also look great when paired with scrub suits. This is why sneakers have become the go-to footwear for nurses, doctors, and other healthcare professionals who always need to be quick on their feet. Work shoes with sneaker styles (such as the Timberland PRO Reaxion Work Shoe) may look ultra-casual, but some have serious protective qualities – such as safety toes – to keep the feet safe against workplace hazards.
Sporty style
Typically, comfortable and lightweight
It can be used in and out of the work setting
Available in a wide range of designs
Not appropriate for formal office locations
Professions/Jobs Ideal For

Nurses
Doctors
Warehouse staff
Delivery personnel
4. Clog
Clogs typically have completely closed uppers and open back portions for conveniently slipping the foot in and out. However, there are also work clogs (such as the Ariat Expert SD Composite Toe Safety Clog) with back sections that are much higher, resembling regular work shoes and offering better foot coverage.
Work clogs can be made with leather or rubber, with both materials offering superior protection against unexpected spills in the work area.
Clogs have roomy structures that allow the feet to move naturally and prevent a cramped feeling. In addition, they're often made with lightweight materials that won't drag heavily on feet, so they can be worn for most of the day without causing discomfort.
Spacious interior
Often lightweight
Strong traction
Easy to put on and remove
Professions/Jobs Ideal For

Cooks/chefs
Laboratory technicians
Nurses
Dentists
Work Shoes Types By Design – Comparison Table
Design

Work Conditions

Key Features

Oxford

Indoor office settings
Jobs that need professional/business attire

Sleek, stylish profile
Ideal for indoor use
Suitable for work and casual use

Moc Toe

Indoor or outdoor settings (depending on the material)
Jobs that require kneeling, bending, or lots of walking

Stylish with a rugged vibe
Flexible and roomy
Versatile design

Sneaker

Conditions that need all-day standing or fast walking
Jobs that need lightweight, comfortable footwear

Sporty style
It can be used for work and leisure
Often comfortable and lightweight
Plenty of styles to choose from

Clog

Conditions with slippery surfaces
Settings with risks of spilled liquids

Easy to put on and take off
Spacious and lightweight
Typically, with strong traction
B. Safety Toes
Work shoes with toe protection offer stronger protection against serious injuries from large objects that roll or drop on the feet.
The enhanced portions block the impact and compression threats, keeping the toes safe inside the footwear. Safety toe caps are made from either metal or non-metal materials and fitted into the toe box. Most safety toe work shoes retain their streamlined profiles even with the built-in toe caps, so they don't look and feel as bulky as safety work boots. Safety toes can be fitted into different designs of work shoes, so it may sometimes come as a surprise to see sporty shoes having steel toe caps.
1. Steel Toe
Steel toe protection offers the strongest level of safety against compression or impact hazards.
Steel toe caps shield the toes and prevent them from getting crushed by tools, gadgets, and other heavy items that can unintentionally roll or drop over the feet. Steel toe protection isn't limited to leather footwear, as some work sneakers – such as the Dunlop Maine Work Shoes – come with steel toes.
It should be noted that steel toes tend to be bulkier than non-metallic toe caps so they may feel uncomfortable after long hours of walking.
Steel toe work shoes can also unexpectedly trigger metal sensors, with some having the risk of electrical and heat conduction.
Exceptional toe protection
Typically, more affordable than other safety toe types
Ideal for hazardous work environments
Can set off metal sensors
Heaviest toe protection
Conduct electricity and heat
Professions/Jobs Ideal For

Loggers
Construction workers
Industrial plant operators
Warehouse personnel
2. Composite Toe
Composite toe caps use non-metallic materials to guard the toes against dangerous compression and impact.
They're typically made of lightweight materials such as carbon fiber, plastic, or Kevlar, so the work shoes (such as the Caterpillar Streamline Composite Toe Work Shoe) don't feel as weighty as steel toe footwear.
Composite toe work shoes are generally more comfortable to wear over long periods because they don't weigh down on the feet, making them ideal for jobs that involve hours of walking or staying upright. They also don't trip off metal detectors like steel-toe work shoes do, so they're better alternatives for work conditions with these sensors in place.
However, composite toes typically don't offer the maximum impact or compression resistance of steel toe caps.
Lighter and thinner than steel toes
Don't trip off metal detectors
No electricity or heat conduction
Impact and compact resistance are not as strong as steel
It can be pricier than steel toes
Professions/Jobs Ideal For

Security personnel
Electricians
Power plant workers
Plumbers
3. Alloy toe
Alloy toe caps are made with allows that usually contain aluminum, although they can also be composed of other metals, including copper and titanium.
Even if made with metallic materials, alloy toes are much lighter than steel.
Alloy toe work shoes are comfortable for continuous walking or standing throughout the day since they don't drag the feet down with excess weight. Alloy toe caps – such as those in the Skechers Synergy – Sandlot Alloy Toe Work Shoe – are much thinner than steel toes, leaving the shoe interior spacious enough for the toes to wiggle as needed comfortably.
It's worth mentioning that electrical and heat conduction and triggering metal sensors can be all issues when wearing alloy toe work shoes.
More lightweight than steel toes
Thinner than steel toe caps
Leaves the toe box with enough space for comfortable toe movements
Heat and electricity conduction
Can unintentionally trigger metal detectors
Professions/Jobs Ideal For

Food processing plant staff
Auto mechanics
Farmers
Engineers
Work Shoes Types by Safety Toes – Comparison Table
Safety Toes

For What Work Conditions

Key Features

Steel Toe

Environments with risks of heavy falling objects
Work settings without metal sensors

Outstanding toe protection
Typically has a lower cost than other protective toes
Suitable for hazardous job sites

Composite Toe

Jobs that involve hours of standing or walking in hazardous conditions
Locations with metal sensors

Thinner and weigh less than steel toes
Don't trigger metal scanners
No conduction of heat or electricity

Alloy Toe

Job areas with impact and compression threats
Worksites that don't have metal scanners

Thinner and more lightweight than steel toe caps
It makes the interior roomier for effortless toe wiggling
C. Upper Material
Work shoes use different materials to craft high-quality uppers that look and perform well in various work conditions. In addition, the materials have aesthetic benefits that make work shoes appropriate for specific work environments. Aside from giving work shoes their distinctive looks, the upper materials also deliver different functional qualities that can be depended on for foot comfort, protection, and overall high-performance use.
1. Genuine Leather
Real leather is the most popular material for crafting work shoes.
It's guaranteed to offer classic good looks that can be maximized in indoor offices and tougher environments, depending on the work shoe style.
Top-quality leather creates robust leather uppers that won't easily get damaged, with a natural resistance to water to stop small splashes of liquids from immediately seeping in. The material makes robust uppers that can be expected to perform and look remarkably well for a long time. Real leather work shoes eventually take on the foot's shape, offering a comfortable, customized fit that other upper materials can't provide.
Classic good looks
Versatile use
Natural moisture resistance
Eventually follows the foot's shape for a customized fit
Durable
Often expensive
Needs meticulous maintenance
It can feel heavy and excessively warm
Professions/Jobs Ideal For

Office supervisors
Restaurant managers
Electrical engineers
Real estate agents
2. Vegan Leather (Synthetic Leather)
Vegan leather looks real but is made with synthetic materials, such as PVC or PU.
This material is a popular choice for those who want to enjoy the elegance and performance of real leather but don't want to use animal by-products because they don't condone animal cruelty.
Also called pleather, synthetic leather is also a cost-effective alternative as vegan leather work shoes are typically more affordable than genuine leather ones. The material also doesn't need to be maintained as carefully as genuine leather, so it's more convenient.
However, synthetic leather doesn't have the durability of real leather and doesn't mold to the foot's shape even with long-term use.
Cost-effective alternative to real leather
Low maintenance use
It doesn't involve cruelty to animals
It doesn't follow the foot's shape
Not as durable or breathable as genuine leather
Professions/Jobs Ideal For

IT professionals
Food service staff
Postal service workers
Truck drivers
3. Rubber
Rubber is a lightweight material often used in work shoes – such as clogs – suitable for long hours of walking or standing. It's not as heavy as genuine leather, so rubber work shoes are comfortable all day.
Rubber has strong water resistance and prevents liquids from entering, so it can protect the feet against becoming soaked in extremely wet work areas.
Work shoes made with rubber are also great for tasks that must be done in rainy weather conditions. Their natural flexibility makes kneeling or bending easier to do compared to using most leather work shoes with stiff uppers.
However, rubber work shoes or clogs can quickly overheat if they don't have perforations that allow the air to pass through.
Strong water resistance
Flexible
Often lightweight
Soft and comfortable
Too informal to be used in offices
Can quickly overheat
Professions/Jobs Ideal For

Chefs/cooks
Sanitation personnel
Gardeners
Veterinarians
4. Mesh
Synthetic mesh is often used in work shoes with sporty styles. It can be the main material for the work shoes' upper, but it's also used in smaller sections (mostly with TPU panels, like the Wolverine Jetstream Comp Toe Work Shoe) for style and cooling purposes.
The breathable material welcomes plenty of air so the feet can feel fresh and cool for longer – even in warm work locations.
It's exceptionally lightweight and allows the feet to move naturally without being held back by unwanted bulk. In addition, mesh uppers easily flex along with the feet's motion, promoting comfortable walking since no rigid materials can pinch the skin from above.
The thinness of mesh compromises overall durability, though, and doesn't have the protective qualities of leather or rubber.
Mesh can easily let moisture into the shoes and cause the feet to become soaked in wet conditions.
Lightweight
Flexible
Breathable
Ideal for sneaker styles
Not as durable as leather or rubber
It easily allows liquids to penetrate
Professions/Jobs Ideal For

Warehouse staff
Retail sales workers
Nurses
Gym trainers
Work Shoes Types by Upper Material – Comparison Table
Upper Material

For What Work Conditions

Key Features

Genuine Leather

Conditions that need durable footwear
Suitable with business attire (depending on the style)
Indoor and outdoor use (depending on the style and waterproofing)

Elegant, classic good looks
Natural resistance to moisture
Conforms to the foot's shape
Durable

Vegan Leather/Synthetic Leather

Indoor and outdoor job sites (depending on the style and water resistance level)

More cost-effective than real leather
No animal cruelty involved
It looks like real leather
Low maintenance

Rubber

Wet work conditions
Jobs that involve hours of standing or walking
Tasks that require bending or kneeling

Strong resistance to liquids
Soft and flexible
Typically, with lightweight designs

Mesh

Hot or humid worksites
Jobs that need all-day walking or standing
Informal work environments

Breathable
Soft and flexible
Lightweight feel
D. Lacing System
The lacing system has a huge impact not only on work shoes' appearance but also affect functionality. The type of closure system significantly affects how comfortable the shoes can be, with lacing systems allowing easy fit adjustments for a more personalized experience. This aspect also affects the work shoes' ability to stabilize the feet for steady walking over varying ground conditions.
1. Laces
Laces are showcased in more formal styles of work shoes (such as Oxfords) and sporty, sneaker-style options.
Laces can match the color of work shoes for a seamless aesthetic, although they can also come in contrasting colors to create interesting accents, such as in athletic shoes with brightly colored laces.
The lacing system secures the foot and prevents it from sliding inside the shoe, which can lead to unsteady walking. In addition, it enables fit adjustments for better comfort and more stable walking.
Create a seamless, timeless look
They can serve as accents
Secures the foot in place to prevent unexpected sliding
Allows fit adjustments for improved comfort and stability
It can be a tripping hazard if untied
It takes time to tie and untie
Professions/Jobs Ideal For

Construction workers
Firefighters
Loggers
Farmers
2. Straps
Straps or hook-and-loop closures offer an alternative to laces for securing work shoes in place.
These straps – such as those used by the Reebok Work and Cushion 4.0 KC Shoe – are often more convenient because they can be positioned properly faster than laces.
However, they don't allow the fit to be customized like lacing systems, so the shoes may not fit as securely as lace-up work footwear.
The straps add an interesting vibe but may also look too young or casual, making the shoes unsuitable for certain work environments requiring formal attire and footwear.
Convenient to use
Quicker to secure than laces
Work as eye-catching accents to work shoes
Don't allow fit personalization
Look too casual for professional settings
Professions/Jobs Ideal For

Gym instructors
Healthcare professionals
Retail sales workers
Teachers
3. Slip-On
Work shoes with no laces can be slipped on and off without the need to deal with laces or straps.
They're suitable for workers who need to change into work footwear quickly and don't have time to fiddle with the whole lacing system. Lace-free work shoes come in various designs, ranging from dressy profiles like Oxfords to more rugged styles (like the Danner Run Time Composite Toe Shoe).
However, these work shoes' fit can't be customized without laces, so they may not feel as secure as lace-up shoes.
Convenient to slip on and off
Faster prep time
Available in different designs
Fit can't be adjusted
Don't feel as secure as lace-up work shoes
Professions/Jobs Ideal For

Kitchen staff
Cleaning personnel
Auto mechanics
Gardeners
Work Shoes Types by Lacing – Comparison Table
Lacing System

For What Work Conditions

Key Features

Laces

Hazardous and non-hazardous worksites
Indoor and outdoor conditions (depending on materials and construction)

Create a streamlined, timeless look
They can be used as accents
Secure the feet in place
Allow fit adjustments and customization

Straps/Hook-and-loop Closure

Casual/informal work environments

Quick and convenient use
Eye-catching accents

Slip-On

Hazardous and non-hazardous worksites
Indoor and outdoor conditions (depending on materials and construction)

Typically, comfortable
Easy to slip on and remove
Come in different designs
E. Protective Sole
The outsoles of work shoes support the feet for a more stable walking experience. They also protect against various hazards that can be encountered in the workplace, keeping the feet safe against serious injuries. Therefore, looking for work shoes with soles that can protect against specific threats in the work environment is important to ensure enhanced safety while focusing on the job at hand.
1. Slip-Resistant
Slip-resistant soles help stabilize the feet in varying ground conditions, making it easier to prevent slipping accidents in the workplace.
They're typically made with rubber, TPU, or proprietary materials such as Vibram – which all have high traction levels. Slip-resistant outsoles – such as those on the Fila Memory Workshift Slip Resistant Shoe – grip surfaces firmly, enabling steady walking even on slick or uneven ground conditions. They're often built with deep treads that enhance traction, but there are also work shoes with low-profile soles that offer superior grip.
Prevent slipping on tricky surfaces
Enhance stability while walking
Those with large lugs can be heavy
Professions/Jobs Ideal For

Farmers
Oil & gas plant workers
Chefs and cooks
Sanitation personnel
2. Puncture-Resistant
Puncture-resistant soles typically look and feel like regular work shoe outsoles – but they're enhanced to block piercing hazards.
A puncture-resistant plate (made from either metallic or non-metallic materials) is placed into the sole for reinforcement, ensuring that sharp objects such as broken glass or nails won't puncture the work shoe or foot.
Work shoes with puncture-resistant soles, such as the Timberland PRO Reaxion Work Shoe, are ideal for job sites where sharp objects may be left lying on the ground, where workers can accidentally step on them while concentrating on their duties.
Protect the foot against puncture injuries
Metallic plates can make the footwear heavy
Work shoes with puncture-resistant soles tend to be expensive
Professions/Jobs Ideal For

Firefighters
Emergency responders
Construction workers
Heavy equipment operators
3. Heat Resistant
Heat-resistant soles protect the feet from scorching on hot surfaces.
They don't disintegrate when exposed to high-temperature surfaces like concrete or newly asphalted roads. Work shoes with this enhancement, such as the Puma Elevate Composite Toe Shoe, keep the feet comfortable and safe while walking or standing on the scorching ground to get the job done.
Keep the feet safe from getting burned by extremely hot ground conditions
Prevent damage due to exposure to high-temperature surfaces
Can make the work shoes expensive
Professions/Jobs Ideal For

Asphalt layers
Road construction workers
Welders
Firefighters
4. Oil Resistant
Oil-resistant soles have uniquely resilient structures that prevent oil absorption, protecting the feet against harsh liquids. Work shoes with oil-resistant soles are suitable for work surroundings where the floors may be spilled with oil or oil-based products.
The soles won't easily break apart when exposed to harsh oil-based substances that can damage other components without oil resistance.
Oil-resistant soles also have a strong grip and help prevent slipping on oily or greasy floors.
Prevent oil absorption
Not damaged with exposure to oil or oil-based products
Strong traction
Often heavy
Can be expensive
Professions/Jobs Ideal For

Oil & gas plant personnel
Auto mechanics
Gas station workers
Food manufacturing plant staff
5. Acid/Chemical-Resistant
Work shoes with acid or chemical-resistant soles are ideal for worksites where the floors may have spilled chemicals or acid-based products.
The soles are built to resist the absorption of harsh substances so they won't come in contact with the feet, preventing chemical burns and severe skin irritation.
Work shoes (such as the Reebok Soyay RB191 Safety Shoe) are made with soles that are strongly resistant to acid, and chemicals and maintain their sturdy structure even when the soles are exposed to hazardous solutions.
Don't suffer from severe damage after exposure to chemicals or acids
Prevent acid or chemical absorption
Keep the feet safe against irritation and chemical burns
Typically, have higher price points than work shoes without the enhancement
Professions/Jobs Ideal For

Chemical lab technicians
Farmers
Oil & gas plant personnel
Auto repair technicians
6. Electrical Hazard Protection
Outsoles with electrical hazard protection offer a secondary level of safety against electric shock.
Work shoes like the Skechers Work Malad Comp Toe Shoe have electrical hazard-safe designs that greatly reduce the risk of electrocution in incidental contact with open circuits. As a result, these shoes offer enhanced safety for workers in environments that are exposed to electrically charged objects or live wires.
Significant reduction of the electrocution risks in dry conditions
Protection against electric shock can weaken with exposure to wetness
Professions/Jobs Ideal For

Linemen
Fence workers
Electricians
Carpenters
Work Shoes Types by Protective Soles – Comparison Table
Protective Sole

For What Work Conditions

Key Features

Slip Resistant

Wet job sites
Greasy floors
Outdoor work when it's raining

Prevent slipping accidents
Improve stability while walking

Puncture-Resistant

Conditions with sharp objects on the ground

Block sharp objects to prevent puncture injuries

Heat Resistant

Outdoor work under the sun
High-temperature ground conditions

Prevent foot discomfort and injuries that can be caused by extreme heat
Protect the sole from damage on hot surfaces

Oil Resistant

Industrial environments with oil or oil-based substances
Food manufacturing settings

Stop oil absorption to prevent structural damage to the sole
Prevent slipping on greasy or oily surfaces

Acid/Chemical-Resistant

Environments where acids, fertilizers, alkali, chemicals, and other harsh substances can spill

Protect against skin irritation and chemical burns
Block acids and chemical absorption to prevent damage to the sole

Electrical Hazard Protection

Worksites with exposure to live wires or electrically energized components

Significantly minimize the risk of electric shock in dry conditions
F. Structural Protection
Work shoes' safety features are not focused only on the soles and toes.
For enhanced foot protection in hazardous environments, some safety features cover the whole structure of work shoes.
This improves safety in areas where specific safety risks can be encountered while finishing different tasks.
1. Abrasion Resistance
Abrasion-resistant materials positively impact work shoes' function and appearance.
Uppers and soles with strong abrasion resistance will more effectively maintain their top-notch looks because they won't easily get damaged by abrasive materials in the workplace. Abrasion-resistant components will continue to perform well even after exposure to abrasion, which will not considerably impact how the shoe function.
Prevent premature structural damage
Helps maintain work shoes' high-quality appearance
Can increase the work shoes' prices
Professions/Jobs Ideal For

Farmers
Loggers
Carpenters
Law enforcement officers
2. Waterproofing
Waterproof work shoes, such as the Rockport Ellingwood Oxford Shoe, stop liquids from seeping in to keep the feet dry and comfortable in wet surroundings.
They protect not against water but also from other liquids, including mud and beverages that may be spilled on the footwear.
The strong liquid resistance also protects the shoes from structural damage from exposure to excessive moisture. As a result, waterproof work shoes are suitable for outdoor use (especially in inclement weather). Still, they're also ideal for indoor work settings where liquid spills, such as kitchen work areas, may not be entirely avoidable.
Stop liquid penetration to prevent structural damage
Maintain dry, comfortable feet in wet conditions
It can make the work shoes more expensive (especially with high-tech waterproofing)
Professions/Jobs Ideal For

Gardeners
Kitchen workers
Firefighters
Farmers
3. Insulation
Insulation refers to the work shoes' ability to maintain foot comfort in extremely cold environments. Insulated work shoes have insulation materials built into the structure to regulate temperature so that the feet stay comfortable.
Insulation materials preserve the heat inside the shoes, enveloping the feet with much-needed warmth to protect them from freezing in severely cold conditions.
They also block cold air, so it won't easily creep inside the shoes. Aside from trapping warmth, insulation can add another cushioning layer to give the shoe interior a cozier feel.
Preserves a warm interior to keep feet comfortable in cold settings
Blocks cold air from entering the shoes
Adds another layer of cushioning
Thick insulation can make the shoe interior too tight
Generally, they are more expensive than non-insulated work shoes
Professions/Jobs Ideal For

Farmers (during winter)
Park rangers (in cold weather)
Gardeners (in low-temperature settings)
Loggers (winter season)
4. Stain Resistance
Stain resistance not only works for work shoes' aesthetics, but it also ensures that spilled liquids won't cause functional damage.
Work shoes made with stain-resistant materials are easy to maintain since the unwanted substances won't be absorbed and can easily be wiped off. In addition, work shoes made with stain-resistant uppers, such as the Skechers Work Bronwood Shoe, maintain their high-quality appearance for longer and won't easily be damaged by spilled substances.
Liquids and other substances don't get absorbed by the material
Work shoe appearance is preserved for a long time
May increase the shoes' price
Professions/Jobs Ideal For

Cooks and chefs
Nurses
Veterinarians
Animal trainers
Work Shoes Types by Structural Protection – Comparison Table
Structural Protection

For What Work Conditions

Key Features

Abrasion Resistance

Indoor or outdoor conditions with abrasion hazards

Maintains the shoes' high-quality aesthetic
Prevents premature damage

Waterproofing

Outdoors in rainy weather
Wet settings (indoors or outdoors)

Protects the feet against uncomfortable wetness
Prevents material damage due to liquid penetration

Insulation

Cold environments (indoors or outdoors)

Keeps feet comfortably warm in cold settings
Enhances softness inside the shoes
Stops cold air from getting in

Stain Resistance

Conditions where liquids and other substances can be spilled
Work areas surrounded by dirt or debris

• Preserves shoes' good appearance for longer •

Preserves shoes' good appearance for longer
Prevents absorption of spilled substances
Conclusion
Work shoes come in different types that offer many benefits and drawbacks. When selecting work shoes, it's important to know the various choices available, considering the different aspects that must be considered. Knowing more about the different options for designs, upper materials, safety toes, lacing systems, protective soles, and structural protection can make it easier to efficiently screen the products and discover the most suitable one for your duties and work environment.
---